This post is for Day 17th of Mercari Advent Calendar 2022, brought to you by Mohan Bhatkar, Head of Engineering for Global Center of Excellence.
Introduction
Hello Everyone.
I am Mohan Bhatkar, Head of Engineering for Mercari Group's first ever Global center of excellence. Through this article let me share with you about our endeavor and some of my personal experiences to establish Mercari Group's first ever Global Center of Excellence in Bengaluru, India in 2022. I hope this story of our exciting journey could enlighten our background efforts and could help any organization to learn more about establishing a Global center of excellence.
Background
The need to establish a Global Center of Excellence in the first place
It is estimated that by 2030, the Japanese tech market will have a talent deficit of roughly 790,000 people. As the demand for tech soars due to the impact of the COVID-19 pandemic, moving forward, the efforts of diverse technical specialists, including talent from outside of Japan, will become increasingly important.
Since Mercari's establishment in 2013, under the banner of its mission to Create value in a global marketplace where anyone can buy & sell, the company has endeavored to build a globally competitive team that respects the diverse experiences and perspectives of each individual.
From 2017, Mercari began seriously pursuing overseas recruiting for its Japan headquarter. We have successfully recruited and relocated global talent from all over the world. As a result of these overseas hiring efforts, at present, roughly 50% of the engineering organization based in Mercari's Tokyo office is composed of non-Japanese engineers, which is also an indicator of how rapidly diversity is progressing at the company.
On the other hand, in addition to its core businesses, namely the Mercari app, Mercari US, and the mobile payment service Merpay, Mercari has also started accelerating its development of new businesses—last year, it established its e-commerce platform Mercari Shops, its crypto asset and blockchain business Mercoin, Inc., and its logistics service Merlogi, Inc. In this way, Mercari is further investing in top-tier tech talent in pursuit of its company mission. Furthermore, in order for Mercari to grow into a global tech company with a view to further global expansion in the future, it is essential to create an organization that incorporates diverse perspectives.
With all these perspectives in mind, the engineering office team under leadership of our CTO, Ken Wakasa investigated strategies to expand our product development capabilities in 2021. By December, 2021 we decided to establish a Global Center of Excellence in India.
Why did we choose to establish ourselves in India ?
India has a large pool of highly skilled technical personnel, with approximately 1.5 million engineering students graduating every year. With regard to India's tech talent in particular, the Japan-India Summit Joint Statement released at the 14th Japan-India Annual Summit also expresses the hope that Japanese companies will strengthen the digital economy by employing and collaborating with India's highly skilled technological human resources. As such, Mercari has been actively recruiting from India, including hiring 29 graduates from the various Indian Institutes of Technology in 2018 alone.
Many global tech companies such as Microsoft, Google, and Amazon have established development centers in Bengaluru which is known as Silicon Valley of India. Many local unicorns such as Flipcart, Razorpay, and Oyo were born and are headquartered in Bengaluru. According to a NASSCOM report, 42 new Indian companies have become unicorns by 2021, a rapid growth of 3.5 times in just one year.
In our Tokyo office we have members coming from India including myself and as an organization Mercari has also learnt a lot about cultural aspects of India in the past 4 years. Given that India has evolved very much in terms of tech talent over the last one decade and Mercari has cultural and organizational understanding of such tech talent we decided to establish our first ever Global Center of Excellence in Bengaluru, India.
Birth of Project Biryani
I vividly remember our CTO, Ken Wakasa did very first discussion with me last December about establishing Mercari India. No detailed project plan, project members were decided at that time and he asked me whether I would like to lead engineering efforts in this very challenging project. I was very thrilled to hear about this and couldn't resist myself saying a LOUD INNER YES for this project. I was supposed to take a relaxed year end holiday but this news was so exciting that it kept me thinking about next year's project plan and execution details.
By the beginning of 2022 I was already having a brief draft plan of establishing a global center of excellence by doing various research locally in India and reaching out to several consultancies which can help to bootstrap. Soon we decided core members of the project across different functions such as engineering, HR, corporate, branding, management strategy, etc. With all members we refined our 2022 high level roadmap as below and called this project as Project Biryani named after one of the most popular Indian dishes.

Core objective of Mercari India
For a project of this scale it is paramount to define a core objective in order to not get stretched in various directions. If we have a clear objective then it is easy to share across the organization of Mercari's scale and ensure the same understanding among very diverse members. So we set the core objective of Mercari India as below.
Spearhead the expansion of Mercari Group's product development capability through global engineering excellence.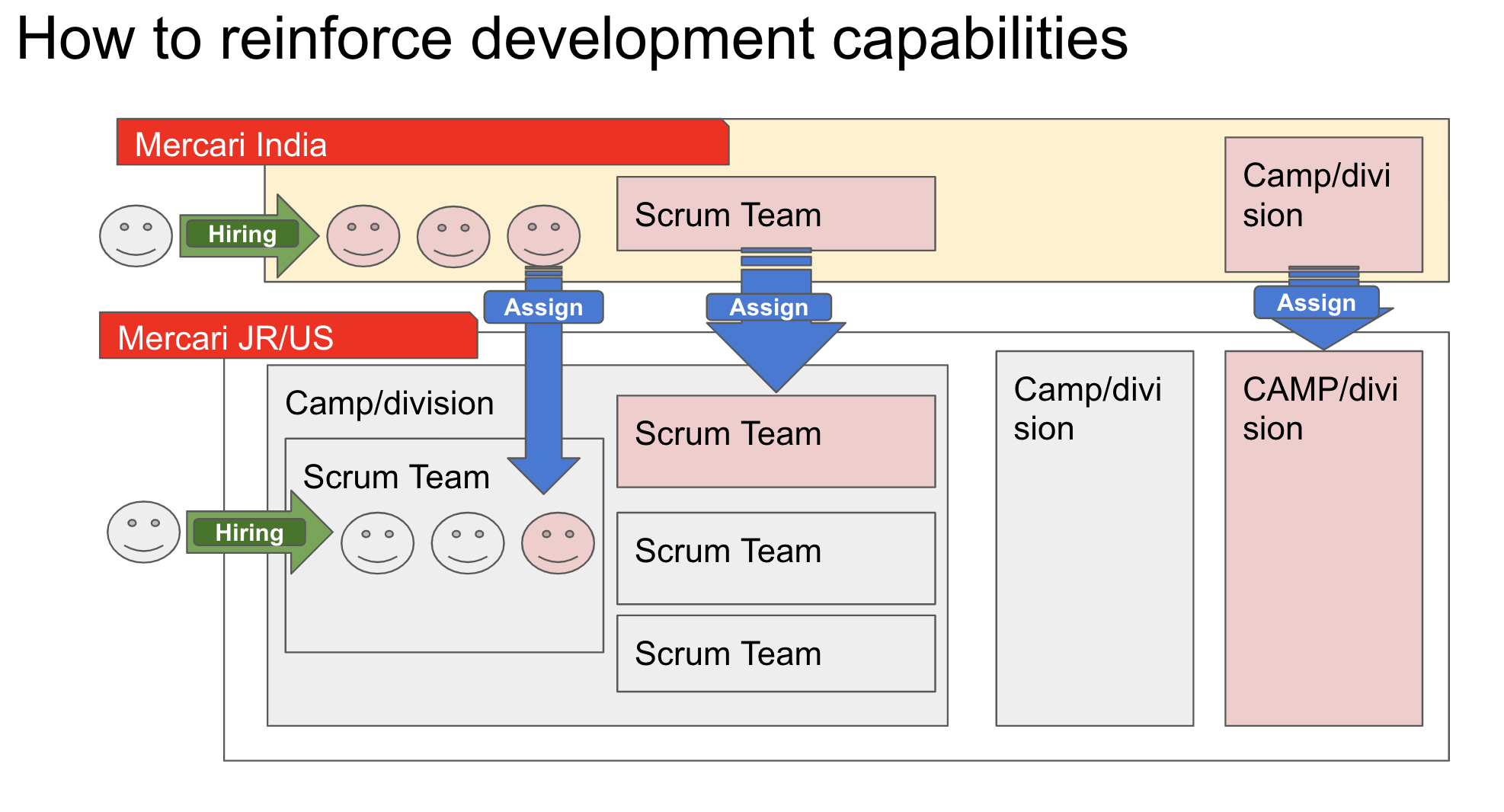 Strategy of Mercari India
In order to achieve the core objective of Mercari India our entire strategy was focussed on Team First Thinking. The idea of treating people as resources is an old concept now. In Mercari India our objective was never to get as many resources as possible to enhance our product development capability. Our end goal is to build self-sufficient teams to deliver customer/business value and for a team to be self-sufficient, it should have all the members with needed expertise such as Software engineer, Product manager, Engineering manager, QA, etc..
The team is the most effective means of software delivery, not individuals.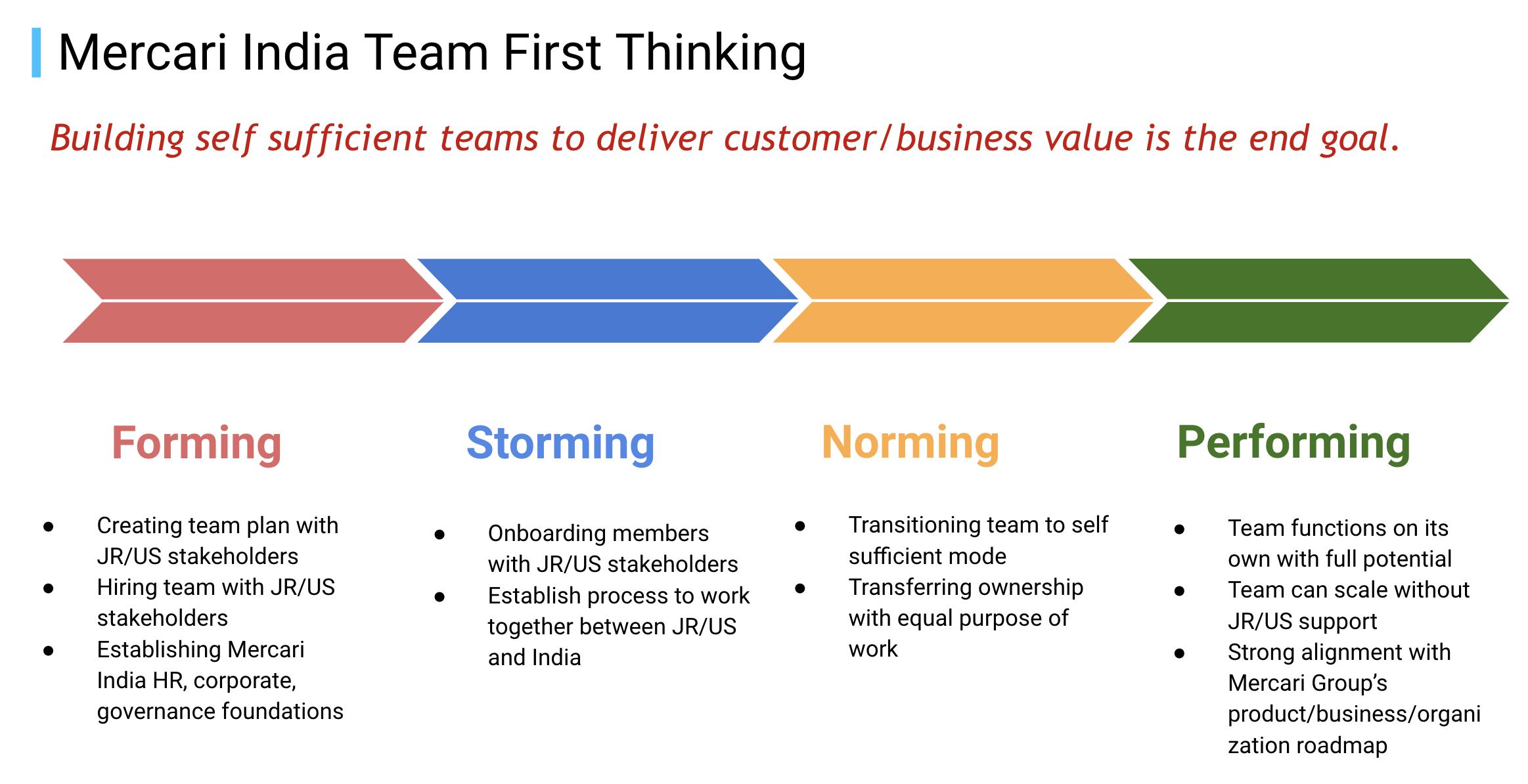 With Team First Thinking strategy I started to plan initial teams for FY2023 (July, 2022 – June, 2023) with different engineering and product leaders across Mercari Group. Although everyone was excited about Project Biryani, when it came to creating initial team plans there were many open questions on hiring and onboarding, management strategy of India members, resolving barriers of time zone differences, ensuring compliance and regulations the same as Japan region, etc. I clarified these open questions one by one and finally we came up with a 1 year team building plan in Mercari India as below.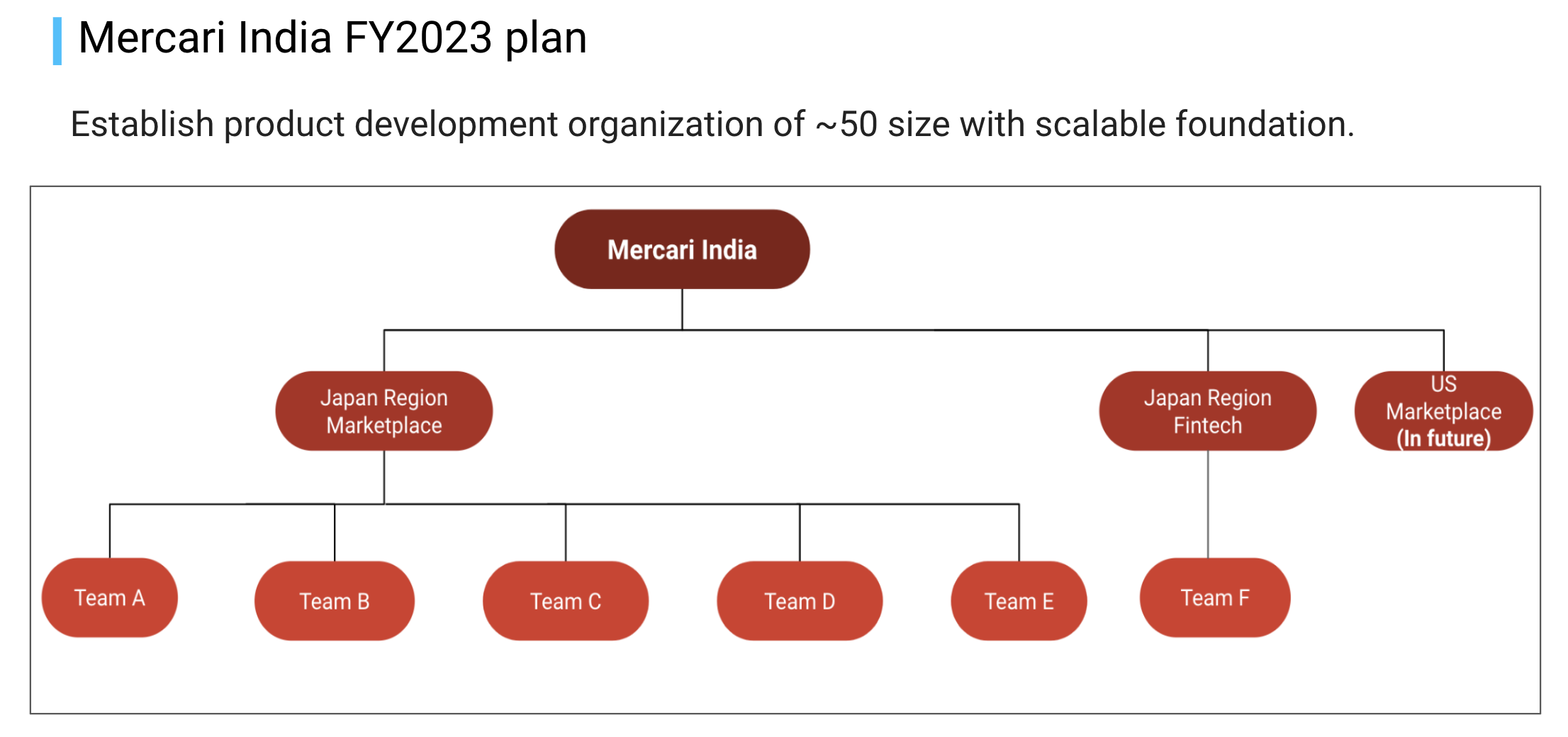 Story of 1 year execution so far
Establishing a global center of excellence comes with many difficulties, since you are faced with making both major and minor decisions in a very rapid environment, and because you run into many firsts.
Many members from various teams in Mercari were involved in this project to make it a reality—the project's Slack channel has over 350 members! Every member in this project has worked relentlessly and below are some of the stories which will share challenges we faced and how we overcame them.
Initial setup with indian consulting partner
To execute our plan we needed a strong local partner who can help in all initial setup to achieve our core objective. Through my early research I found few options for such consulting partners because global center of excellence is a very known term in India and there are many consulting firms which support foreign based companies to set up their product development bases in India. Out of all options we chose the best consulting partner given their strong record of setting up Global Center of Excellence for many international firms including japan based firms. By the end of January, 2022 we already started discussing detailed execution plans along with contract terms.
In order to fix the initial setup, our core team including myself visited our Indian consulting partner in Bengaluru for 2-3 weeks in March, 2022. We have conducted detailed kick off sessions on every area such as legal entity incorporation, finance, office setup, hiring management, branding, HR, etc.
Challenges and resolution
In order to bootstrap Mercari India our consulting partner became a very integral part of every function of the organization and for that we had to give them some access to our systems and using our systems they will handle personal information of candidates as well as employees after onboarding. Mercari follows very rigorous policies and regulations when outsourcing personal information handling to external partners, especially partners outside of Japan.
We wanted to launch a Global center of excellence quickly but at the same time could not compromise on any of our policies and regulations. We had several discussions with our security team, privacy team, IT and governance team and shared a mitigation plan to our executive team. We decided to provide Mercari laptops with the same security measures implemented as Japan to all partner members involved in the project and our IT team ensured to help us in the execution. On top of signing an NDA between two companies we also signed a personal information handling agreement to avoid unnecessary risks in the future.
Contract with our partner got a bit delayed because compliance with all policies and regulations took some time. Even with this we had to make sure that partner members have all needed system access to start our hiring operations within 1 week time. Consulting partners proactively helped us to procure laptops from local IT vendors and we got them ready with cooperation from our IT team in tokyo. We issued Mercari accounts with access to needed systems and communication channels to our partner members and onboarded them with a hiring operation which was our next big challenge.
Onboarding the very first member
Soon after our initial setup in March, 2022 we set a big target to onboard the very first member by June, 2022 and to do this we just had 2.5 months left to get all the functions ready. All function leaders of engineering, talent acquisition, HR, corporate, office setup, branding started working in parallel with many members of Mercari to get things done.
While working on a lot of things in parallel we decided to do a press release about establishing a Center of Excellence in India in the month of May and open India career page to start hiring for our top priority positions. Our branding leader worked hard to get our careers page ready in the background. Based on the team building plan we set up the hiring process and got our hiring positions ready to be published. Our Head of Corporate led all the board approvals needed to establish a new foreign subsidiary in India and we also ensured that all our HR functions are on track.
May 11th, 2022 was the day of the press release and everyone was very excited to share the news to the entire world and begin the first step of hiring in India. I was given an opportunity to do the media briefing as Head of Engineering and as a foreigner to do a media briefing in japanese it felt so exciting but nervous at the same time. Just after the press release we opened our career page and our official journey to establish a global center of excellence in India started from this very day.
Legal entity setup
Legal entity is one of the most important roadblock to hiring someone in India under regulations of the Ministry of Corporate Affairs. Our Head of Corporate led the entire setup to establish an Indian Private Limited entity as a subsidiary of Mercari Inc. Japan. We had to go through many hurdles as below to finally get it done on 23rd June, 2022.
Acquiring physical office
Registering a legal entity in India requires an office address and in order to have a beautiful workplace for our India employees we decided to acquire WeWork managed office space. We did an extensive office site research during our visit in March and finally shortlisted Embassy Golf Link Tech Park as it was located in central Bengaluru and traffic situation was better compared to other big tech parks in Bengaluru. When we visited WeWork in Embassy Golf Link Park they told us that there are no vacancies in their existing office but luckily they were constructing another office in the same tech park by June. We had to hurry in making a decision because even new WeWork office space was getting reserved by different companies and finally with everyone's efforts and support from our partner we finished the contract with WeWork and reserved our office space in the new Sunriver building of Embassy Golf Link Park.
Entity name reservation
After acquiring the official address for our entity the next step was to get the name reservation done. For name reservation we can apply for 3 choices and those names should not be used by any other companies before. We wanted to have Mercari India as the starting name because it shares the same brand name of Mercari Group and hence applied for 3 names starting with Mercari India. Unfortunately the ministry of corporate affairs rejected all our names in the first attempt. In a way this was a big blow to us and we came up again with some alternatives which included Mercari and India in the wordings. In our 2nd attempt we got the name approved as Mercari Software Technologies India Private Limited.
Entity incorporation
After entity name approval in May, 2022 we submitted for entity incorporation as we were about to hire a few candidates in the hiring pipeline. Even though we submitted well in advance, for several days we did not get approval and we were facing a very difficult situation where we need to offer a candidate but we don't even have a legal entity in place. With the help of our local partner we escalated this matter to the ministry of corporate affairs a few times and it seemed the registration site was facing several technical issues during those days. Finally after several follow ups our entity registration got approved on 23rd June, 2022 as Mercari Software Technologies India Private Limited. Check our press release.
Soon after entity incorporation we ensured to complete other corporate functions such as capital injection from the parent company, setting up payroll for new employees, ensuring finance related compliance and the corporate area was ready to onboard new members.
Creating HR foundations
While we were tackling legal entity and corporate function hurdles our HR leader for Mercari India was setting up all HR foundations in parallel. We had to ensure that all HR foundations such as statutory HR policies, compensation & benefit benchmarking, offer approval process, new member onboarding, employee personal data management systems, organization management systems, etc. were ready by June, 2022.
Setting up HR foundations in a completely new country of India had its unique challenges. First of all we did not know many country laws and regulations. HR policy making had to consider local market conditions to be strategic and competitive in the India market. At the same time we wanted to ensure the same values and culture of Mercari Group in our India organization as well.
Our HR leader along with experts from our local partner built HR foundations based on Mercari Group's Culture Doc. Within a short span of 2 months we ensured that Mercari India has one of the best Benefits and Perks, flexible workstyle, relocation and work from home support, etc.
With our corporate and HR foundations ready by the end of June we got the good news that our first member has accepted the offer and will be joining on 30th June. Everyone who worked so hard in the past 3 months to onboard our first member was very ecstatic.
That's the story of onboarding our first member, Anandh!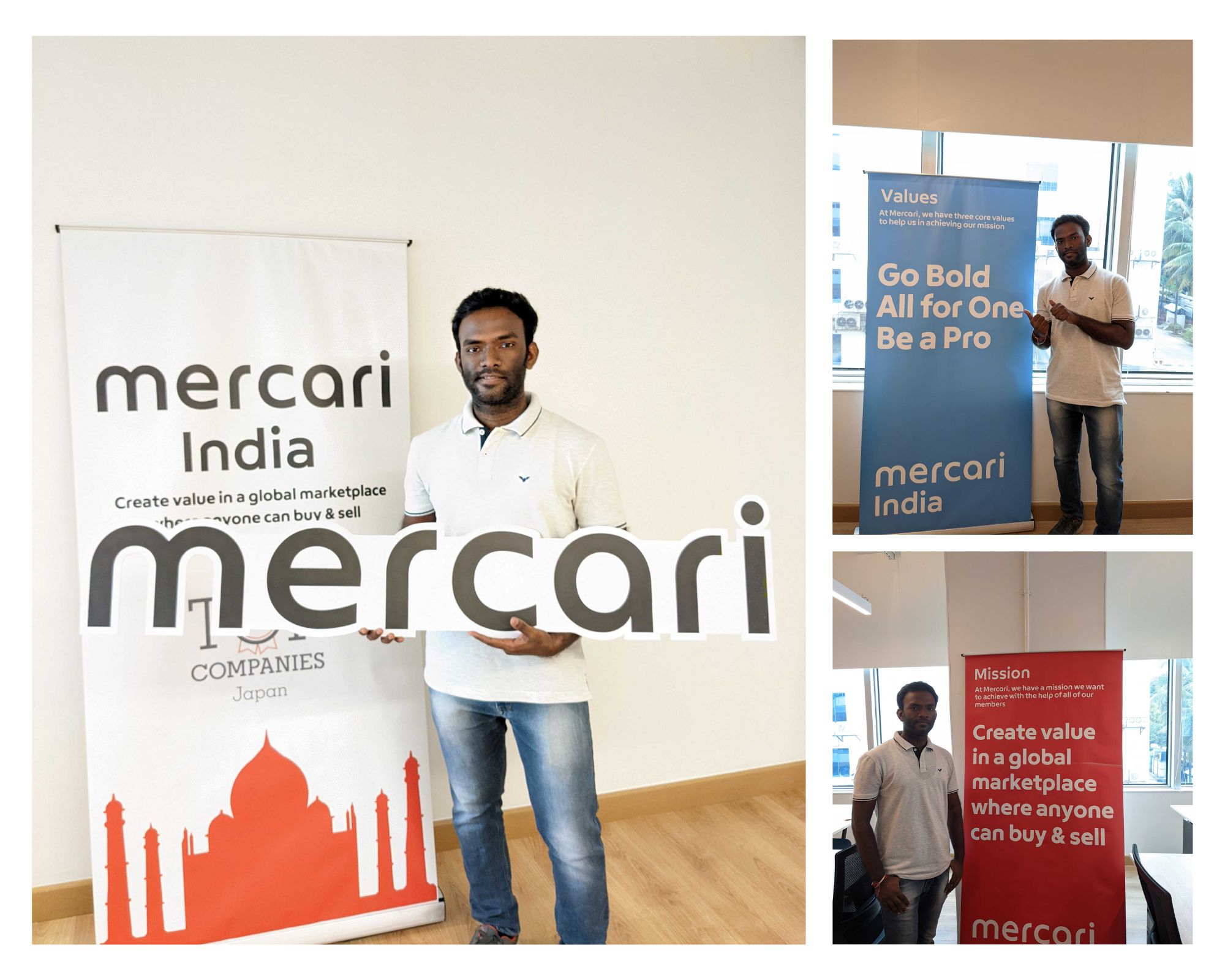 Hiring Hiring Hiring !
After onboarding our very first member we wanted to ramp up our hiring but we were faced with the tough reality of the Bengaluru market which we had been hearing from so many organizations in the past few months.The tech talent pool is ample but at the same time all the organizations are trying to get the best talent onboard. Right from the airport to multiple road crossings we can see companies putting up hiring promotions banners in Bengaluru. That's the reality of hiring in Bengaluru!
When we started hiring in India we basically used the same process and speed as we were using in Japan. But we soon realized that the Indian market is very dynamic and competitive given that every good candidate has multiple offers in hand and they have a variety of choices to go for. To potential candidates Mercari was just another company because many candidates in India still are not aware about Mercari and its culture.
In the initial 3 months from May to July, 2022 we tried to optimize our hiring process but that was not enough as our hiring and onboarding results were very slow. We investigated some of the reasons as :
Long time to hire
Less brand awareness
Less personalized candidate engagement program
And honestly a very competitive market in terms of compensation and benefits
Given the candidate centric market, we started to enhance our hiring process by taking multiple initiatives as below.
Optimized the hiring process and feedback loop from interviewers to reduce time to hire
Brand awareness using online and offline tech events
Regular sharing to Indian tech community using our linkedin forum
Started candidate engagement program during hiring process to align with their personal motivation and career aspirations
With all above initiatives we could see some progress by September 2022, as we onboarded our first team in Mercari India. But still we wanted to accelerate our hiring and take some bold steps to make drastic progress in building the teams. That's when we came up with the idea of conducting Hiring Drive in which we will complete the entire selection process of as many candidates as possible on a single day.
We decided to conduct the hiring drive on 19th November and started preparations from 1st week of November. Within 3 weeks we shortlisted more than 30 candidates to do the interviews on the drive day and prepared around 20 interviewers to conduct all the interviews within 8 hours duration in an online and offline mode.Our recruitment team worked relentlessly to get this done.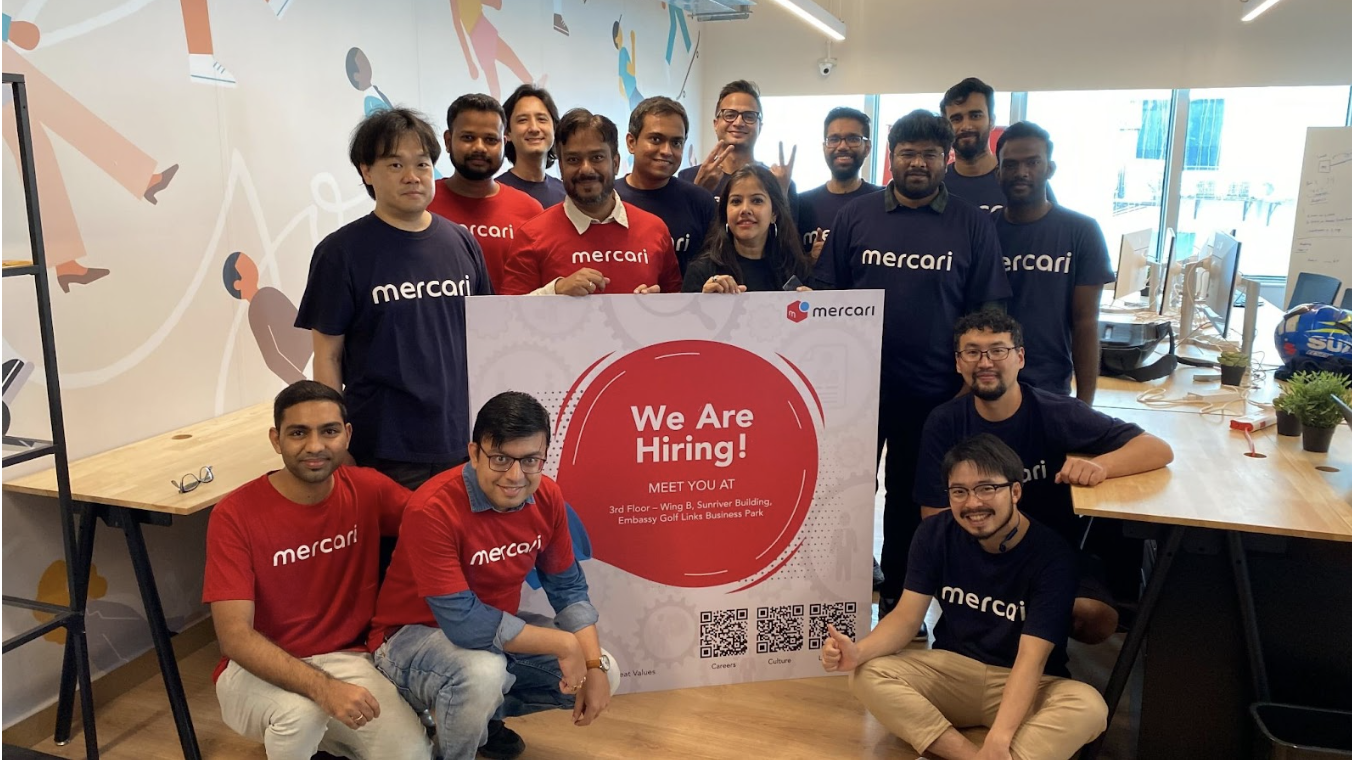 With so much advance preparations and a great effort by all the team, we were able to pull off this hiring drive successfully. To summarize the day it was 8 long hours, 30 candidates, 18 interviewers, 56 interviews, 8 final offers all in a hybrid setup!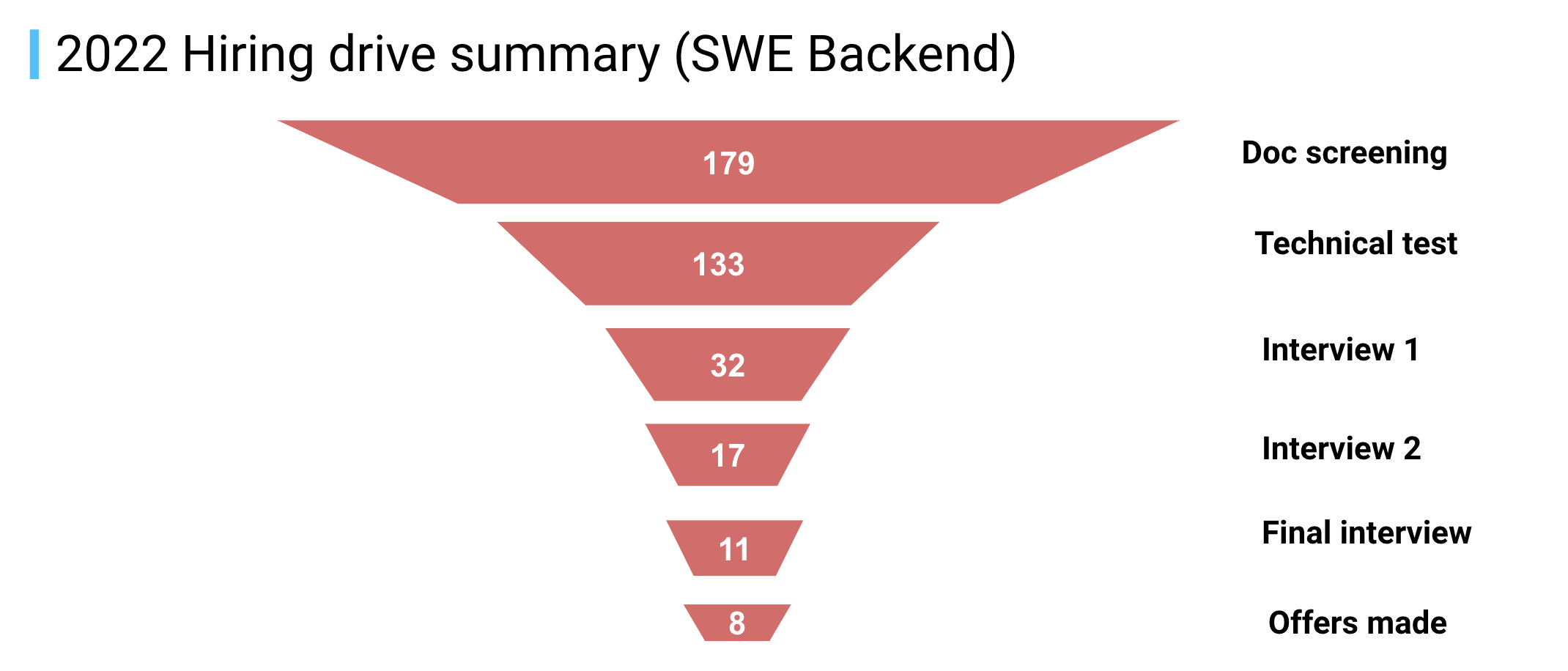 Office setup and cultural integration
As we were gradually onboarding new members, it was important for us to set up a beautiful workplace for them and ensure a good cultural integration between our Japan office and India office.
Our WeWork managed office at the very beginning was very basic in design and facilities and we wanted to add a true Mercari feeling inside our India office. Initially we wanted to set up an office in cooperation with local vendors but it took some time to decide on a vendor and the estimation from vendors was taking too long. We wanted to make our workplace attractive enough so that our members feel that they belong to a good organization.
Our program manager along with the engineering office team led the office setup and we decided to do it ourselves rather than relying on any vendor. During our visit in October, 2022 Mercari members bought necessary furniture and decorative items from various stores and set up almost everything by ourselves. Even our new members helped us in setting the office space and that shows a true spirit of All for one in Mercari.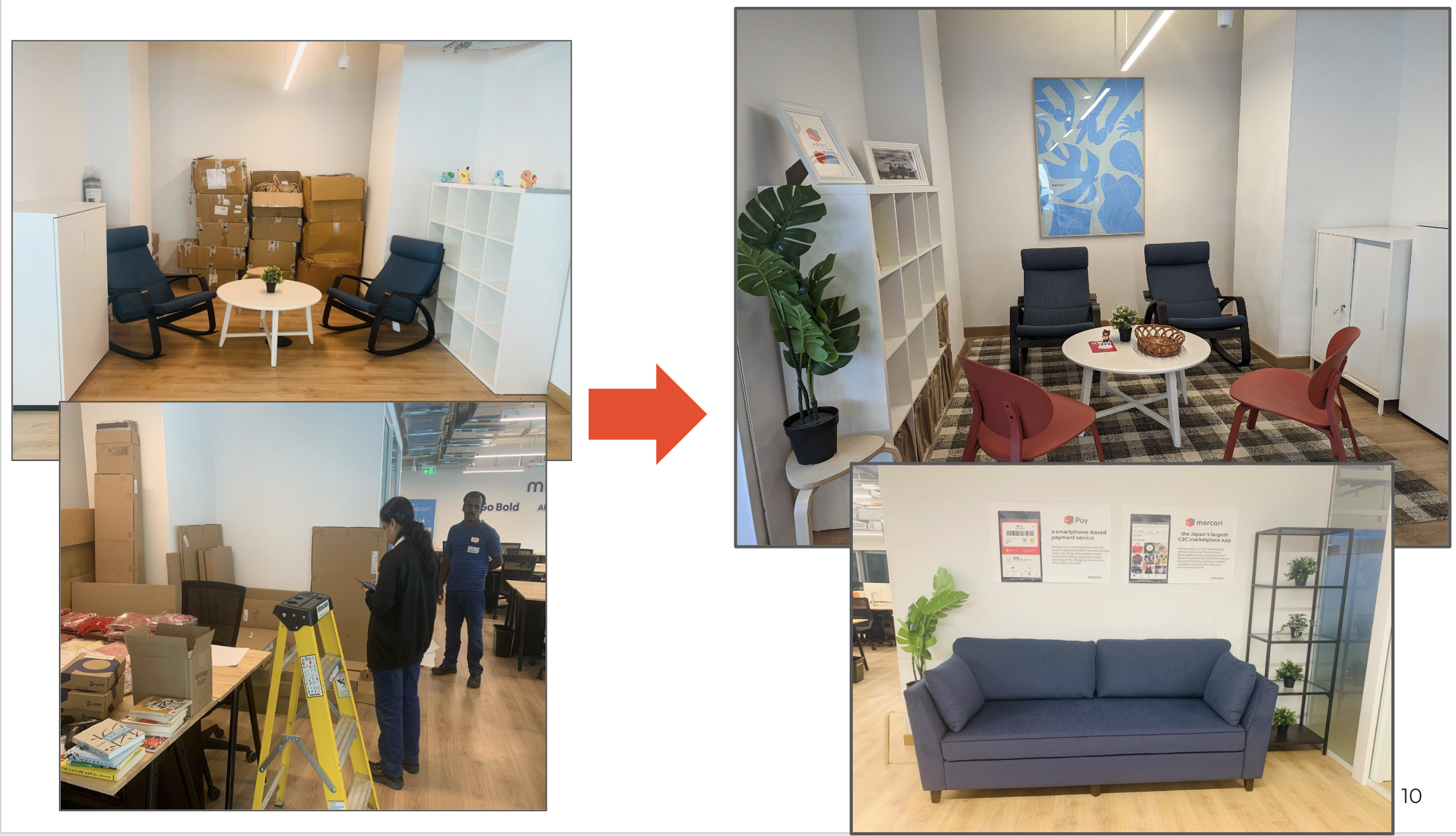 After we finished our office setup we had the first Diwali celebration at our office in October and that was one of the most exciting and beautiful events for everyone in Mercari India. Please refer to event detail article.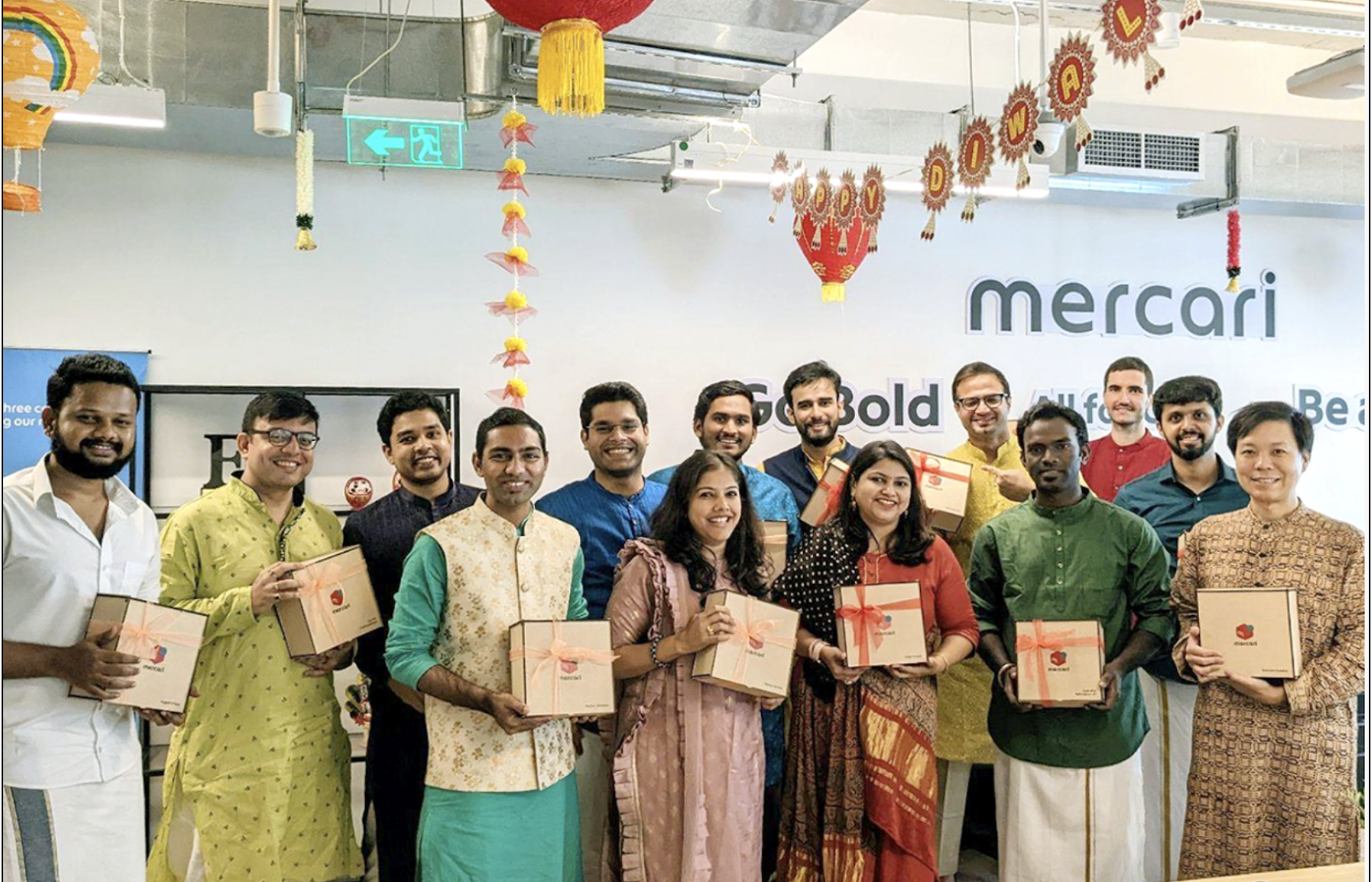 For cultural integration we regularly conduct events such as Weekly Chai Party Club and monthly TGIF. Through such events we get to interact with all India members and get to know their thought process in making Mercari India together.
With all these efforts for the past 12 months by many Mercari members we are able to establish Mercari India but it is just a start and we have a long way to go in this journey. As of today below is a summary of our 1 year short journey and we are hoping to onboard remaining teams by early next year.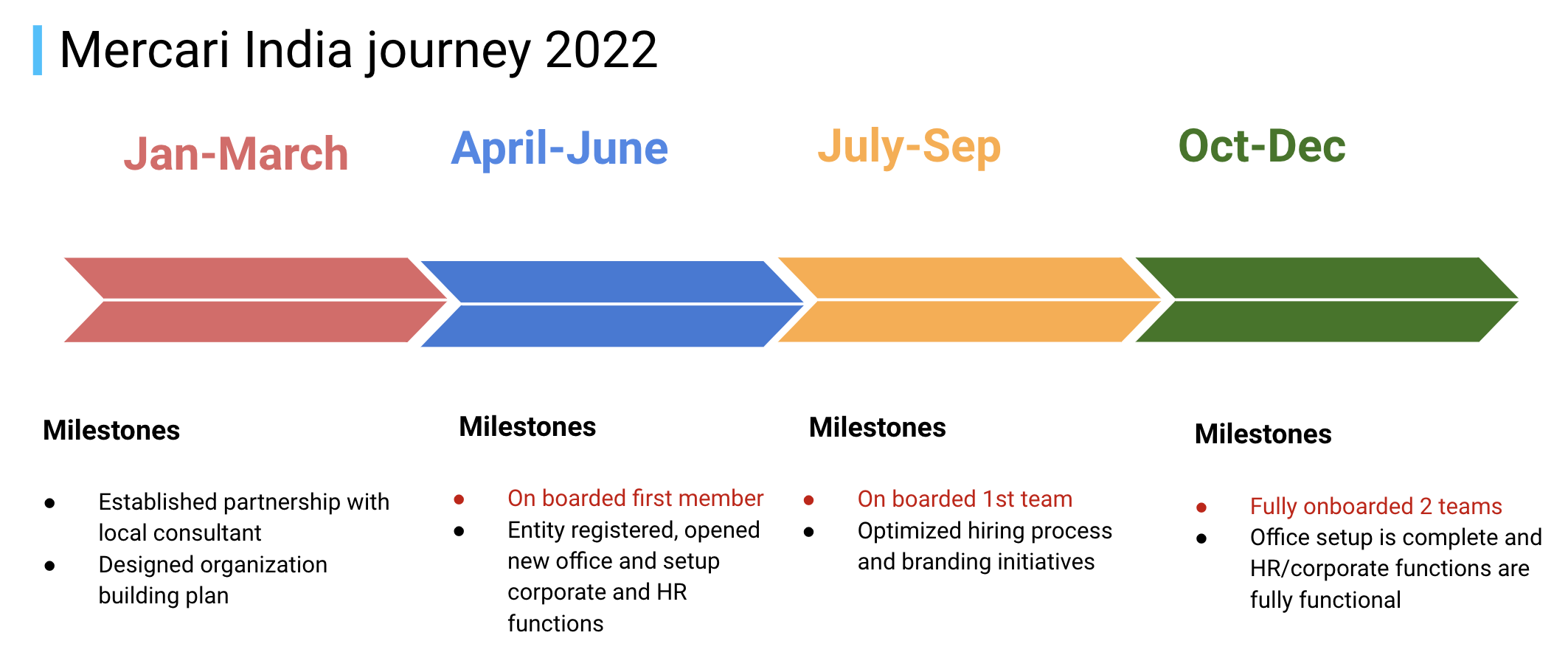 Future Challenges
2022 is just the beginning for Mercari India and to achieve our end goal of building self-sufficient teams to deliver customer/business value we have got a huge mountain to climb next year. As we are rapidly expanding every quarter we will come across many challenges of scaling the organization. Hiring best talent still remains a challenge but growing and nurturing members who have joined Mercari India is paramount to us because they will become the flag bearer to grow Mercari India henceforth.
If you want to be part of our exciting journey please apply through our career site.
Closing thoughts
I would like to extend my sincere thanks to every member of Mercari who has worked relentlessly to make Mercari India's journey successful so far and taking a bold step of making Mercari a global tech company. Establishment of Mercari India resonates truly with our values- All for one, Go Bold, Be a Pro. Few hundred Mercari members have worked on this project in some or other capacity and I will not be able to mention names of everyone but kudos to the entire Mercari team and especially project Biryani core team (Wakasa san, Mikako san, Junichi san, Daisuke san, Kayo san and Jatin) to pull off this big initiative of Mercari Group.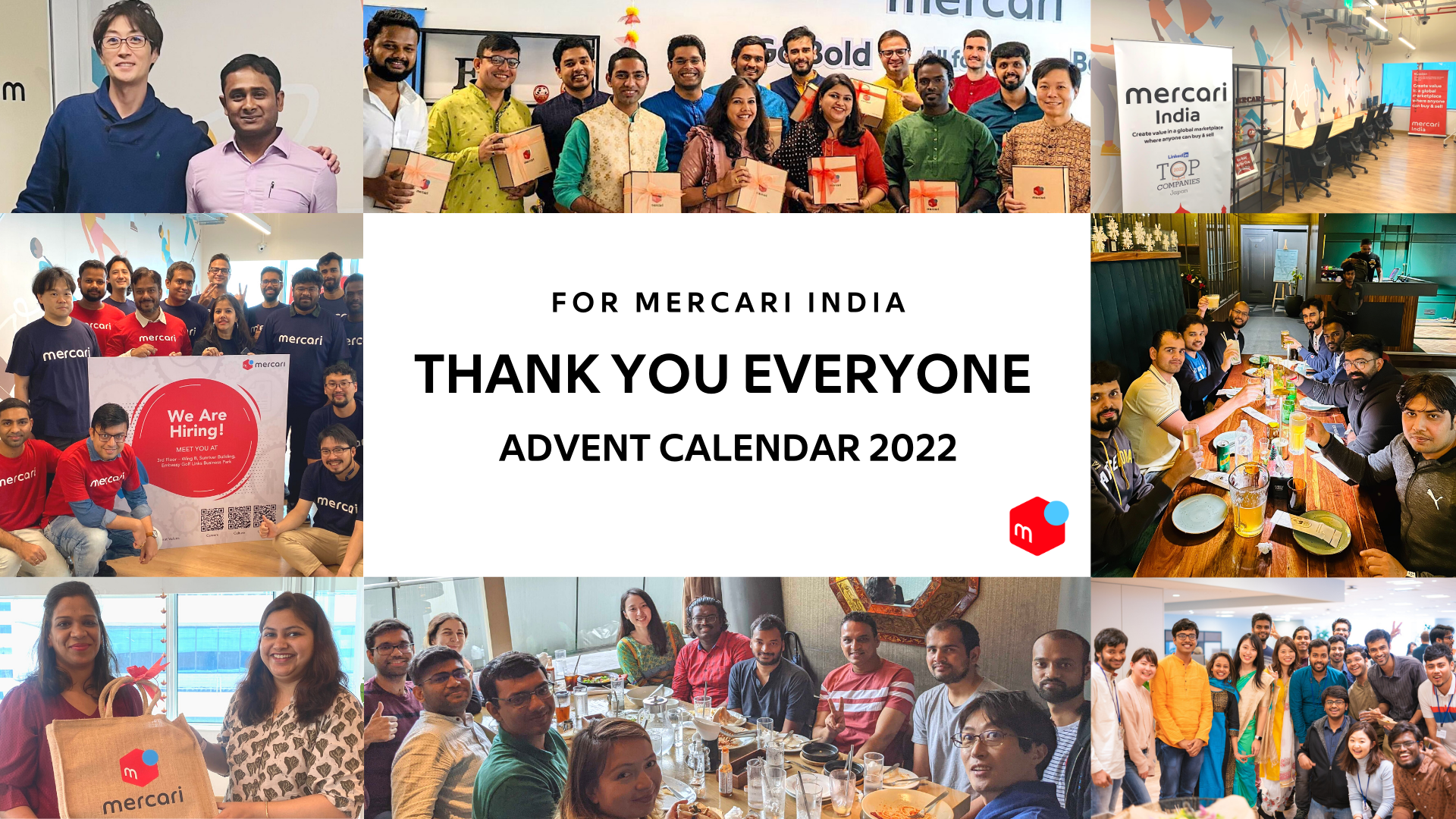 As we close on the year 2022 I wish everyone happy holidays and a very happy new year 2023. I wish Mercari India and Mercari Group a huge success in the new year 2023. Tomorrow's advent calendar article will be presented by @kaustubh. Please look forward to it !