Hello, my name is @afroscript from the Engineering Office.
Mercari Hack Fest ("Hack Fest"), a technology festival for engineers was held for three days from April 19th-21st.
*Related article : Organizing a Successful Internal Hackathon: Mercari Hack Fest Spring 2023
This article explains how the "Showcase Day", the concluding event of Hack Fest was like, as well as the introduction of project award winners.
"Showcase Day" was held in a Hybrid Style
On the final day of Hack Fest, we held "Showcase Day", an event where engineers could present the result of their effort over the past three days.
Since Mercari has the "YOUR CHOICE" system, which allows our members to work anywhere within Japan, the "Showcase Day" was held in a hybrid style, providing our members with the options to participate in both online and offline.
Approximately 300 engineers, project managers and other members from various departments participated in Showcase Day. A total of 24 out of 75 ideas generated during Hack Fest period were presented.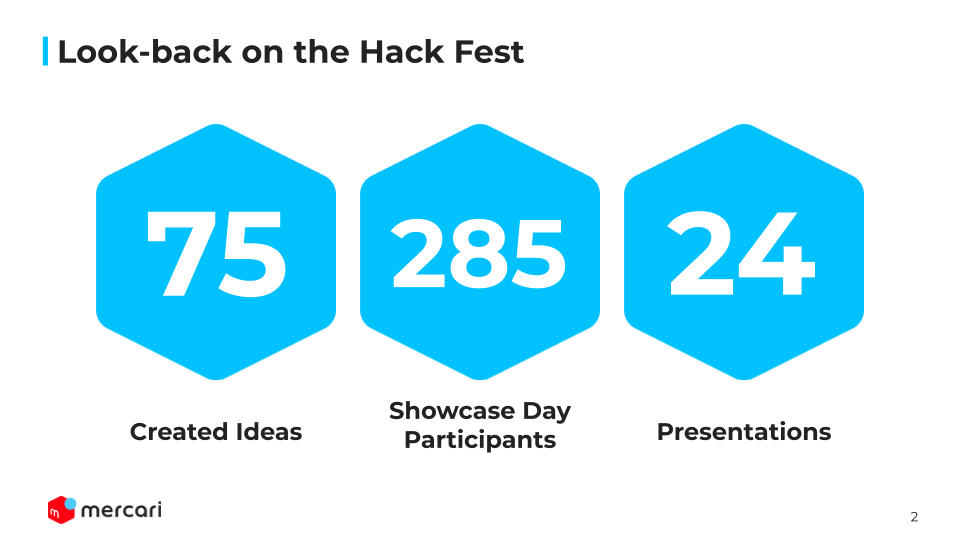 Award Winners
Among the projects presented, those that particularly wowed the judges were selected for Hack Fest Award.
First, let me introduce the winners of GOLD / SILVER / BRONZE Award and their projects.
GOLD Hack Fest Award "Mercari Items Discovery"
Team members
@chan.jonathan, @Misha.k, @Anandh, @tsubo, @cowana, @anastasia, @alisa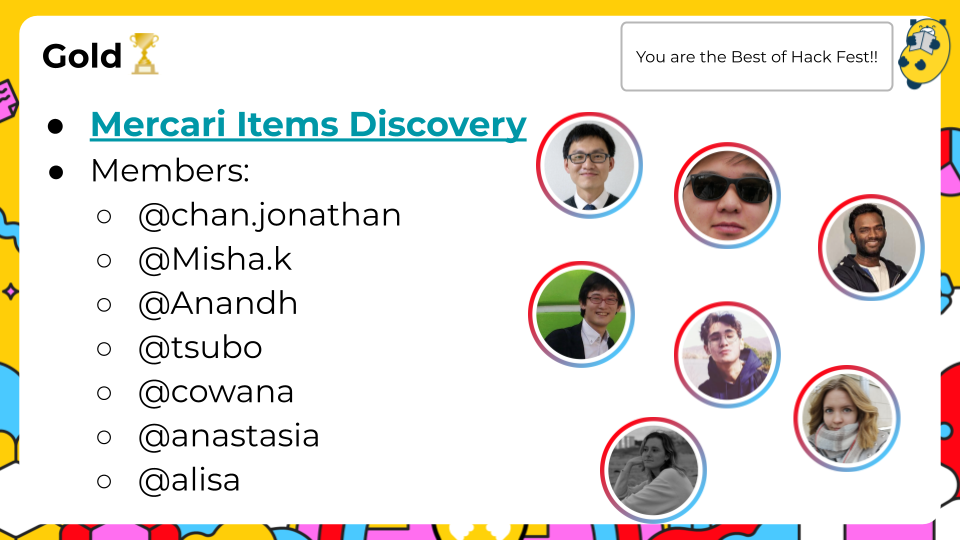 Project outline
Developed a function that makes it easier for customers to find newly exhibited items by allowing them to view newly arrived products in story format.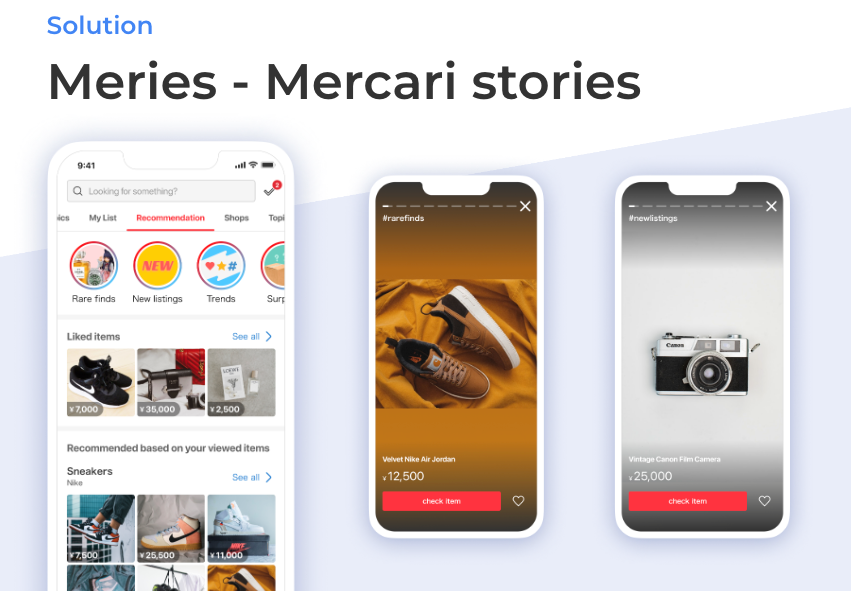 SIVER Hack Fest Award "Project-MI"
Team members
@kiran-k-a, @manoj, @dinesh, @vaibhav, @prajwal, @prasanna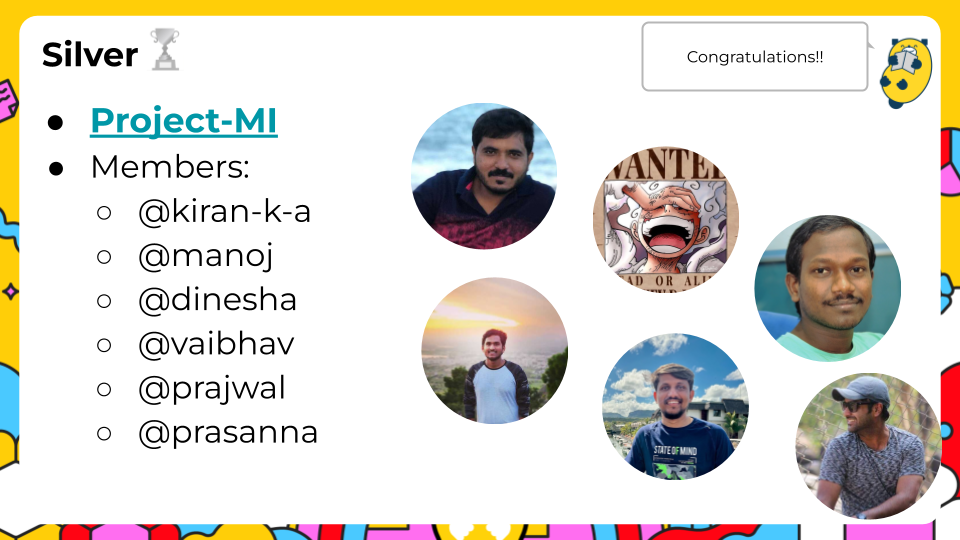 Project outline
Developed a function to easily switch the app language between English and Japanese.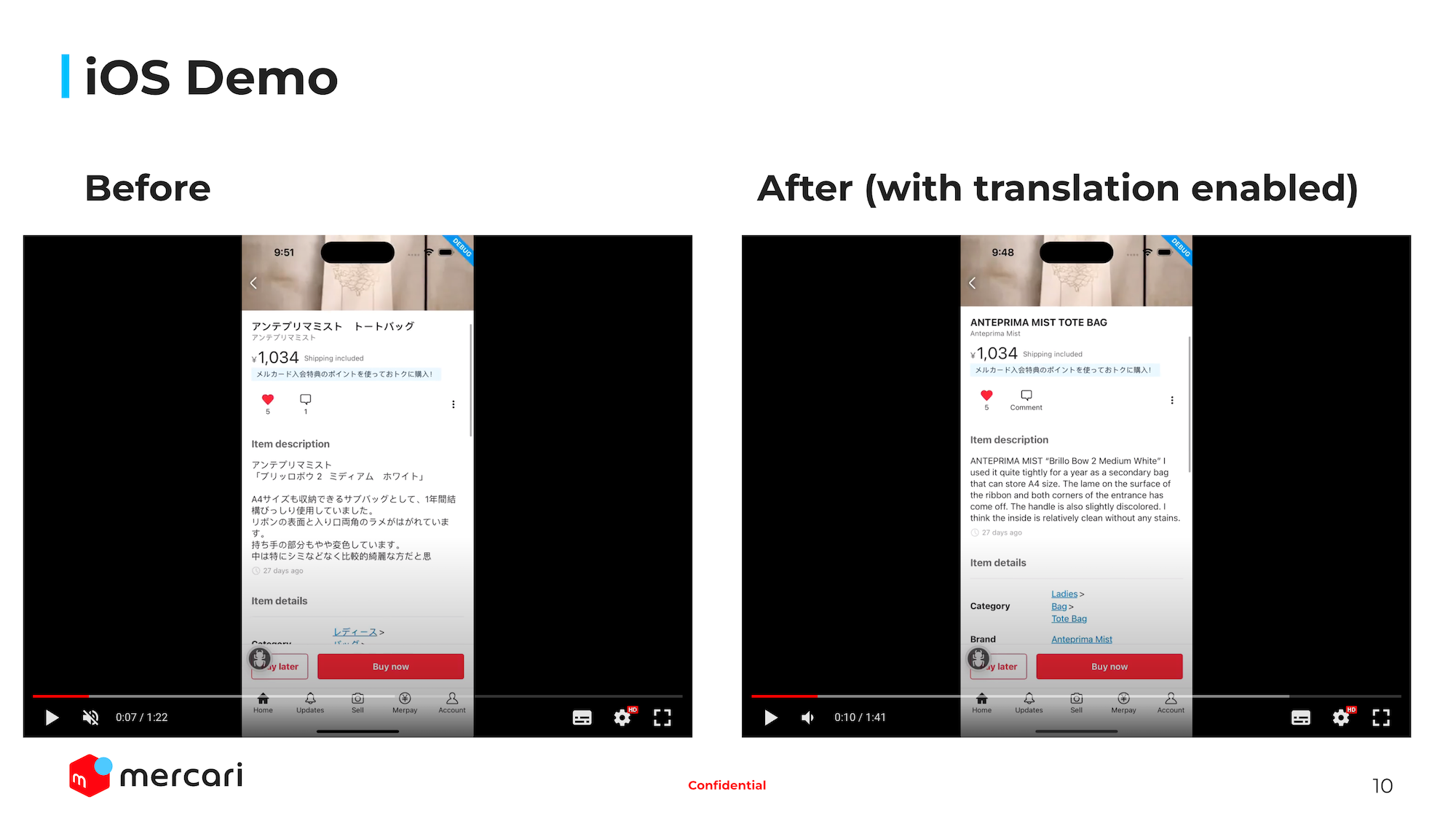 BRONZE Hack Fest Award: "Age Group Facet Filter for Fashion Categories" & "Search + ChatGPT"
This time, 2 projects were selected for the BRONZE Award.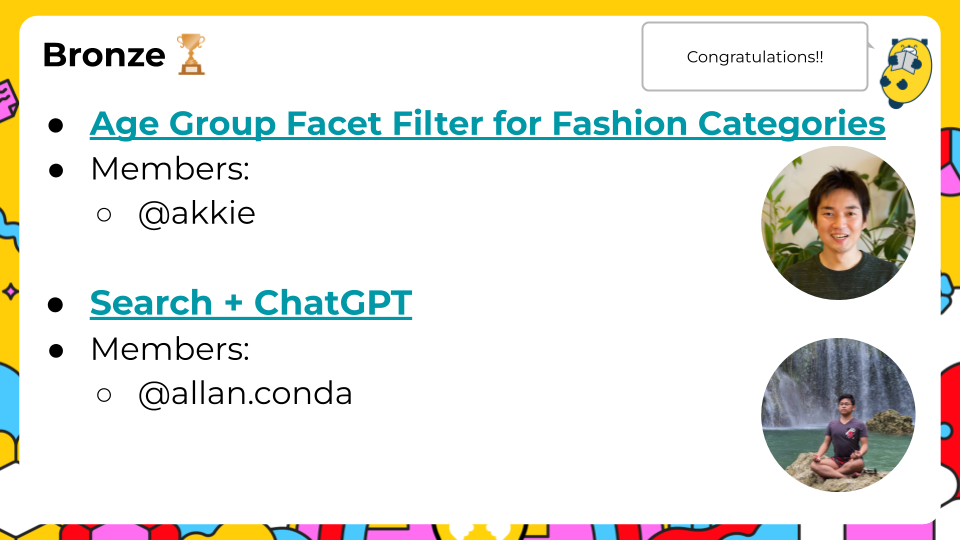 Age Group Facet Filter for Fashion Categories
Member: @akkie
Project Outline : Created a filter to narrow down the search result by age group when browsing in the fashion category and developed a function that can display only popular products in the selected age group.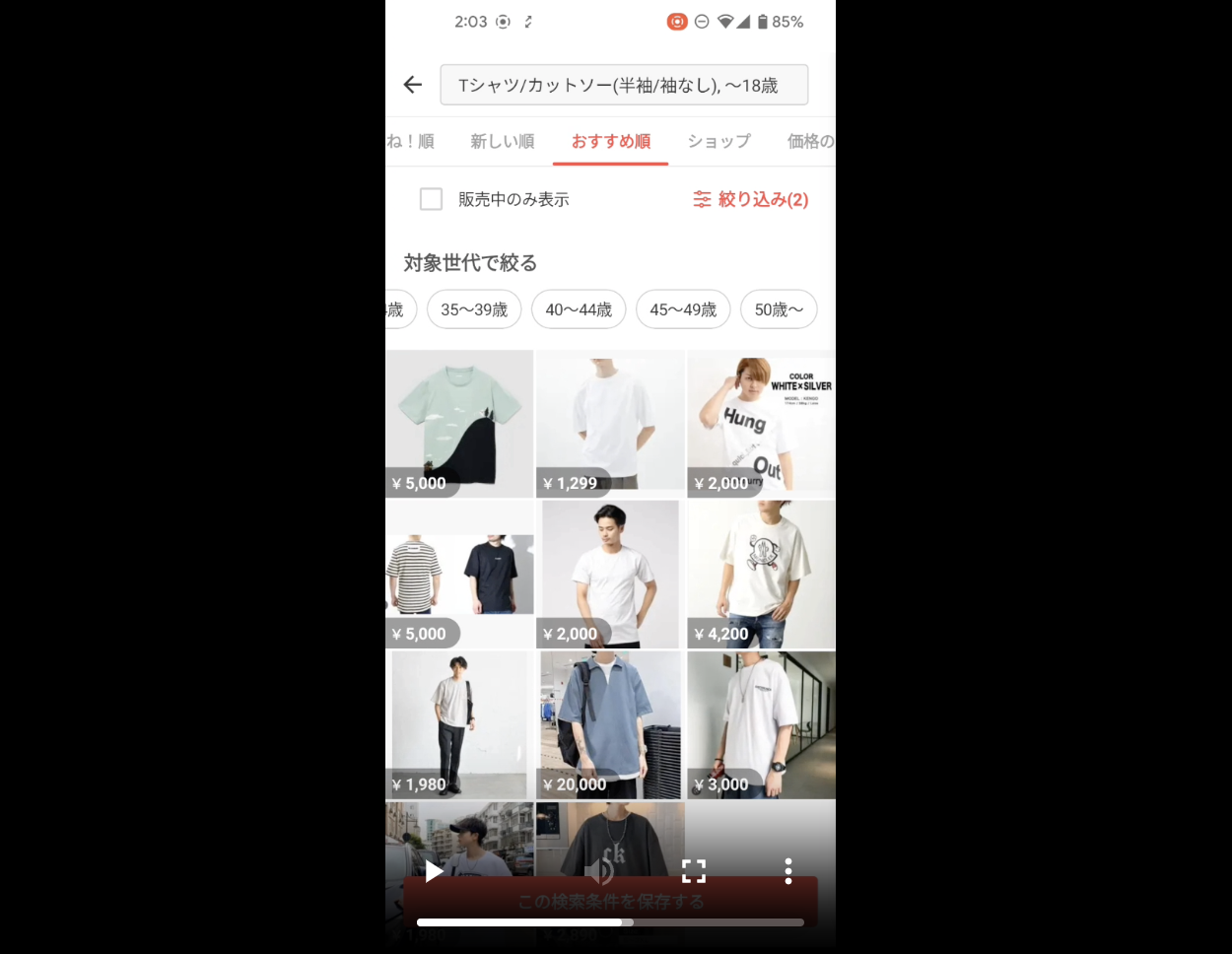 Search + ChatGPT
Member: @allan.conda
Project Outline: Developed a function that provides suggestions for pages users may want to visit when typing words in the search bar by utilizing ChatGPT and created a chat-based feature that enables users to obtain answers by interacting with data such as Mercari ID and purchase history.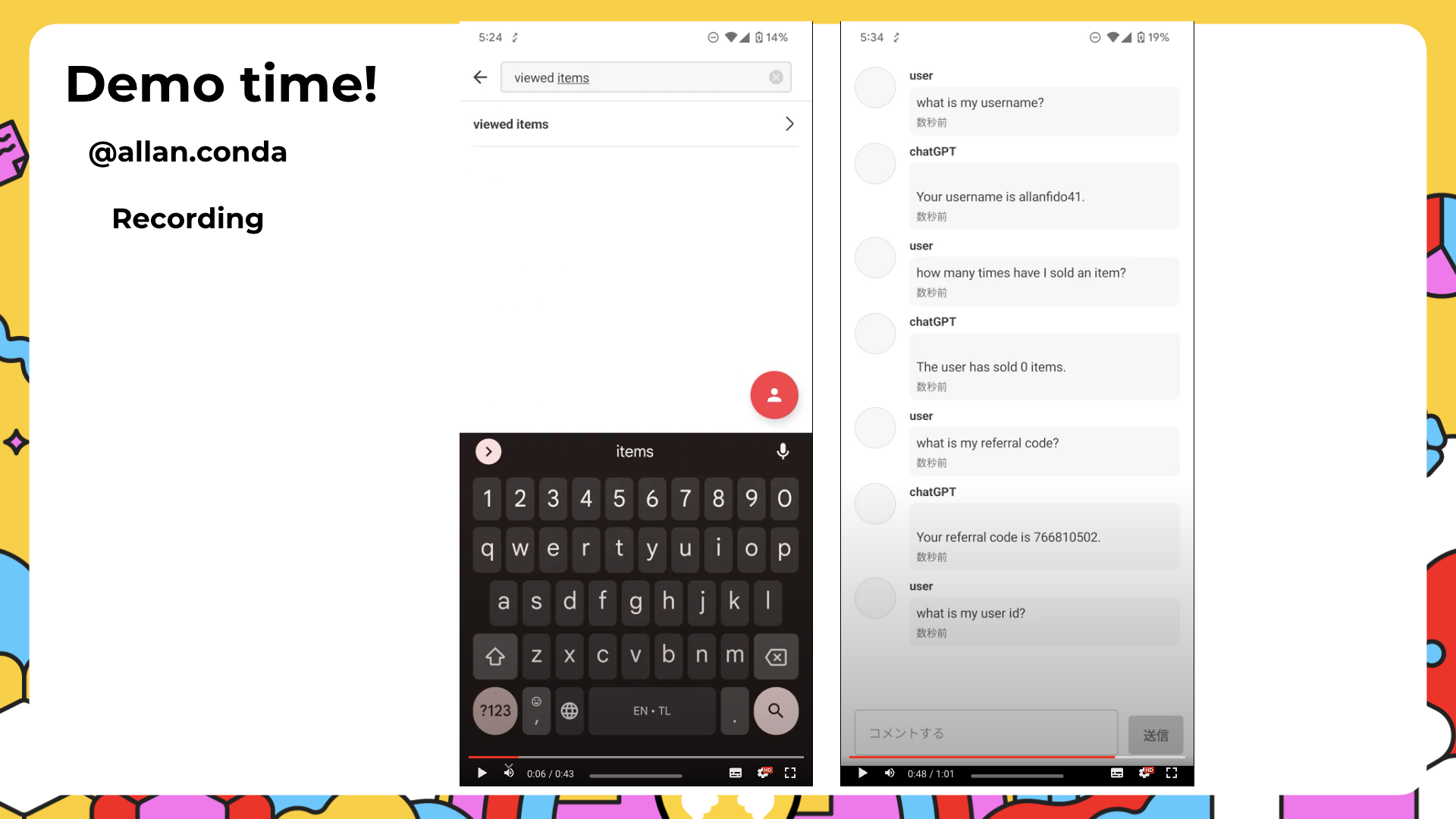 Extra Awards
In addition to the Hack Fest Awards, the "FinOps Award" was presented to individuals or teams who actively foster a culture of cost awareness and ownership of spending. "LLM Award" was given as another special award for the project utilizing the Large Language Model (LLM) technology within the group.
Fin Ops Award: "Shell-Shockingly Good Kubernetes Autoscaling" / Member: @sanposhiho
LLM Award: "Mercari Comment Assistant By Chat GPT" / Member: @kenmaz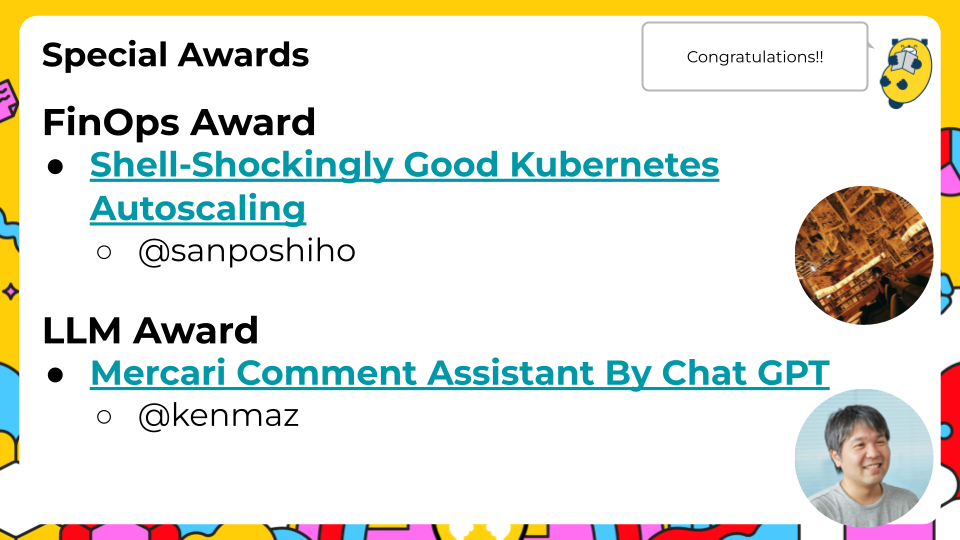 Furthermore, "Judge Special Mention" was given to the following three projects which were not selected for the Hack Fest Award, but left a special impression on the judges.
PJ Name: "Buyer Next" / Members: @erika.takahara, @wills
PJ Name: "Improve UI for QAC" / Members: @mohit, @Chin-ming, @romy
PJ Name: "Feedback Classification"/ Members: @a-corneu, @meatboy, @aggy, @kazzy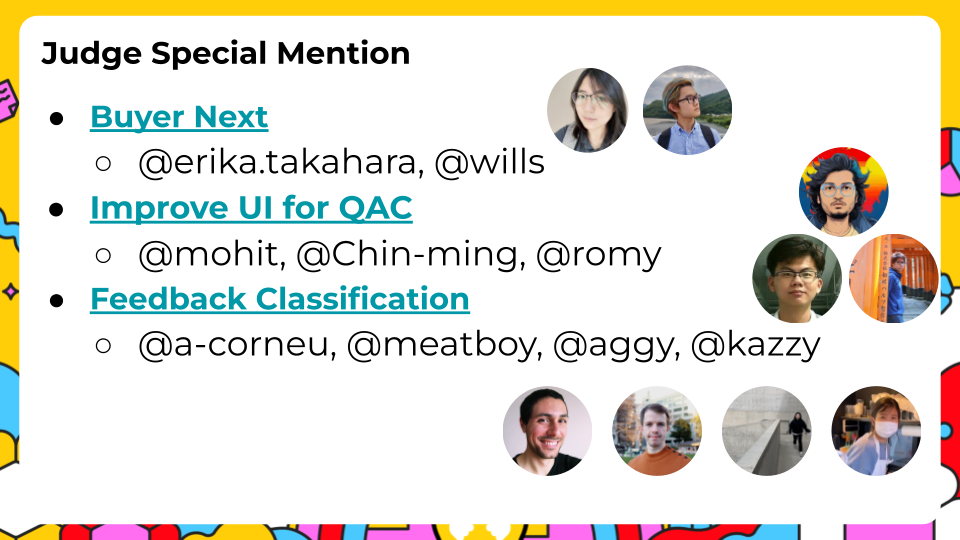 After Party
Once the presentations are done, it's time for the After Party! Hack Fest is a "festival" of technology, so this time I tried to create a Japanese-style festival atmosphere by adding festive decorations and shooting games and ring toss games.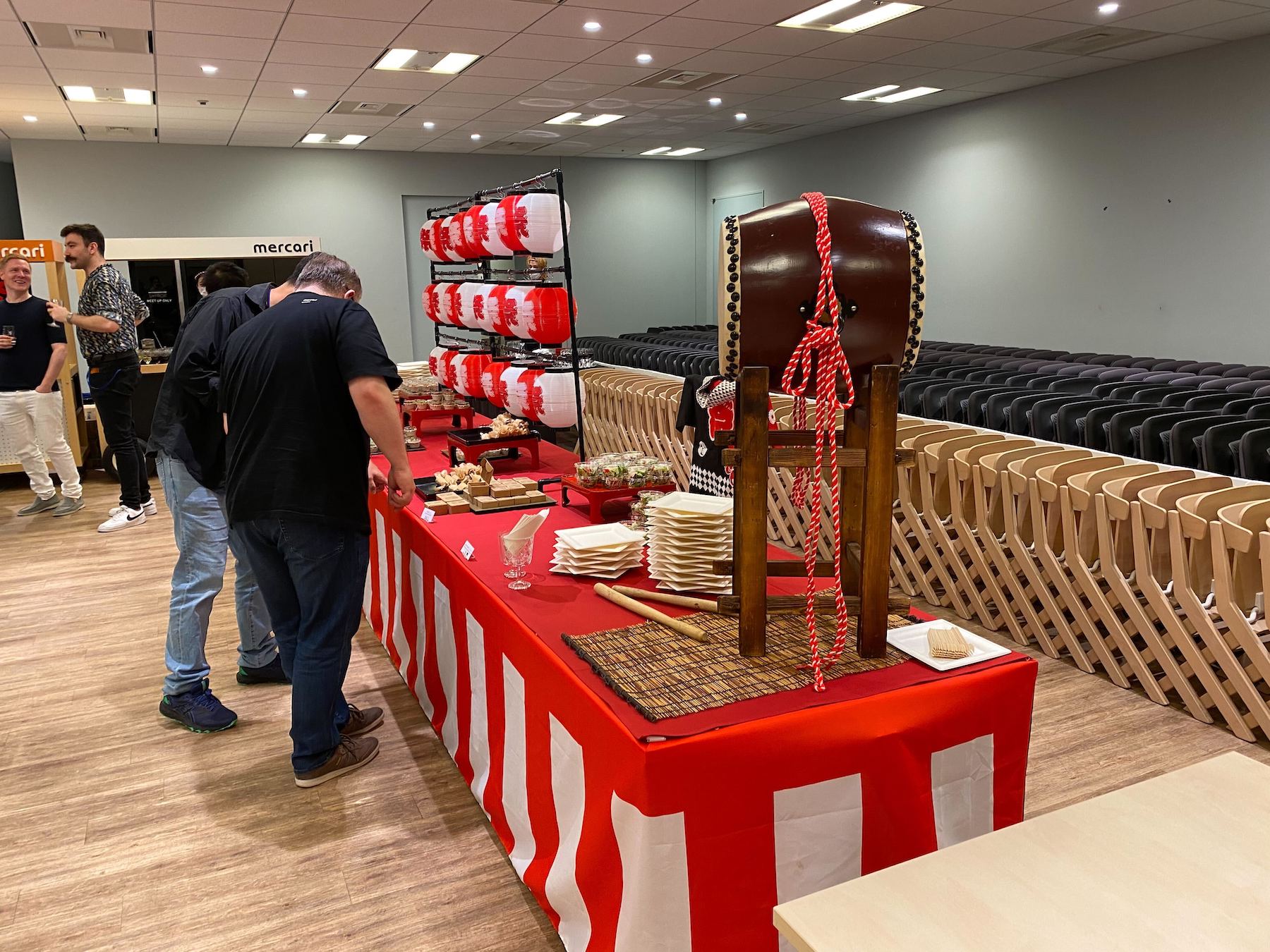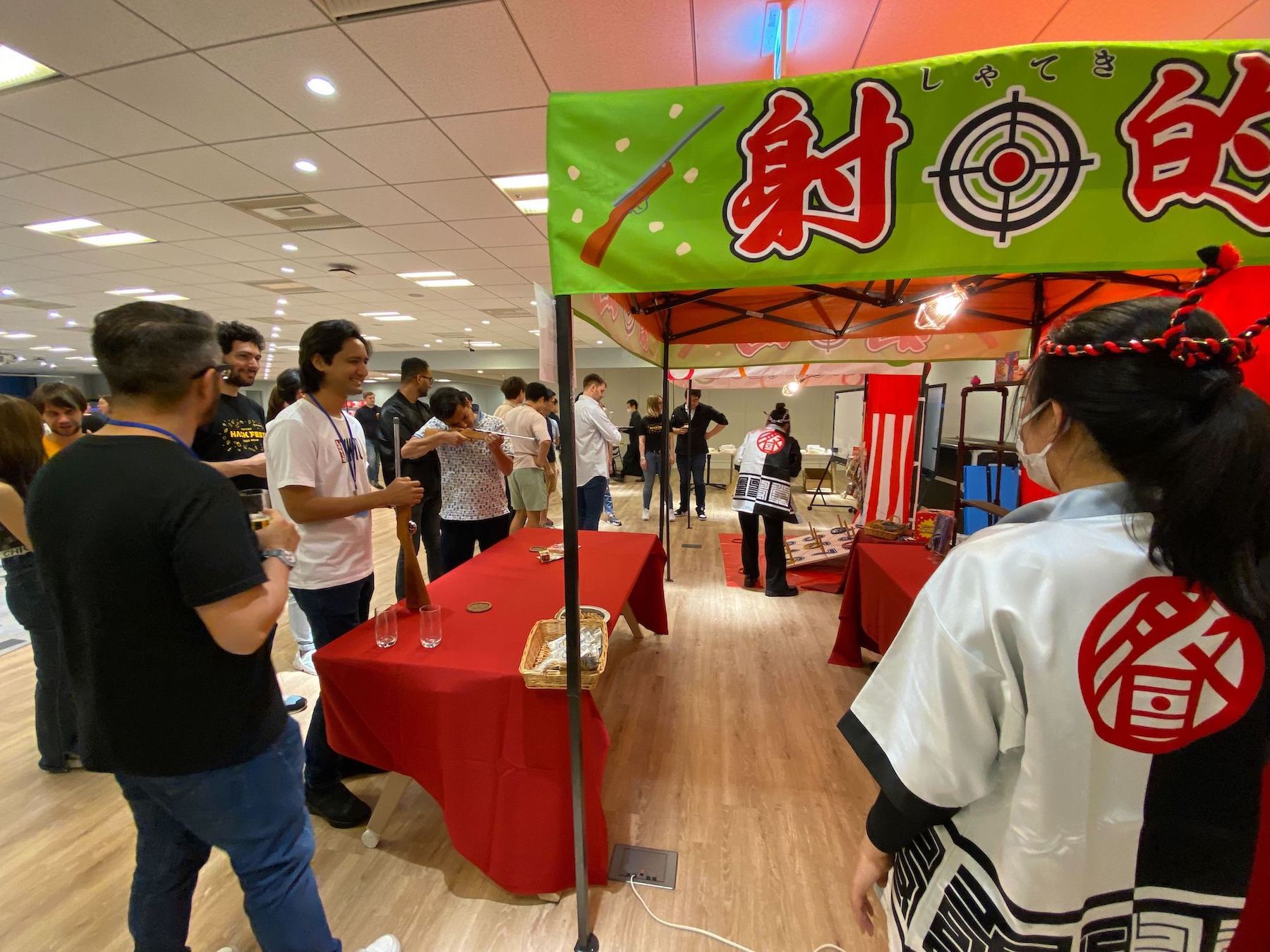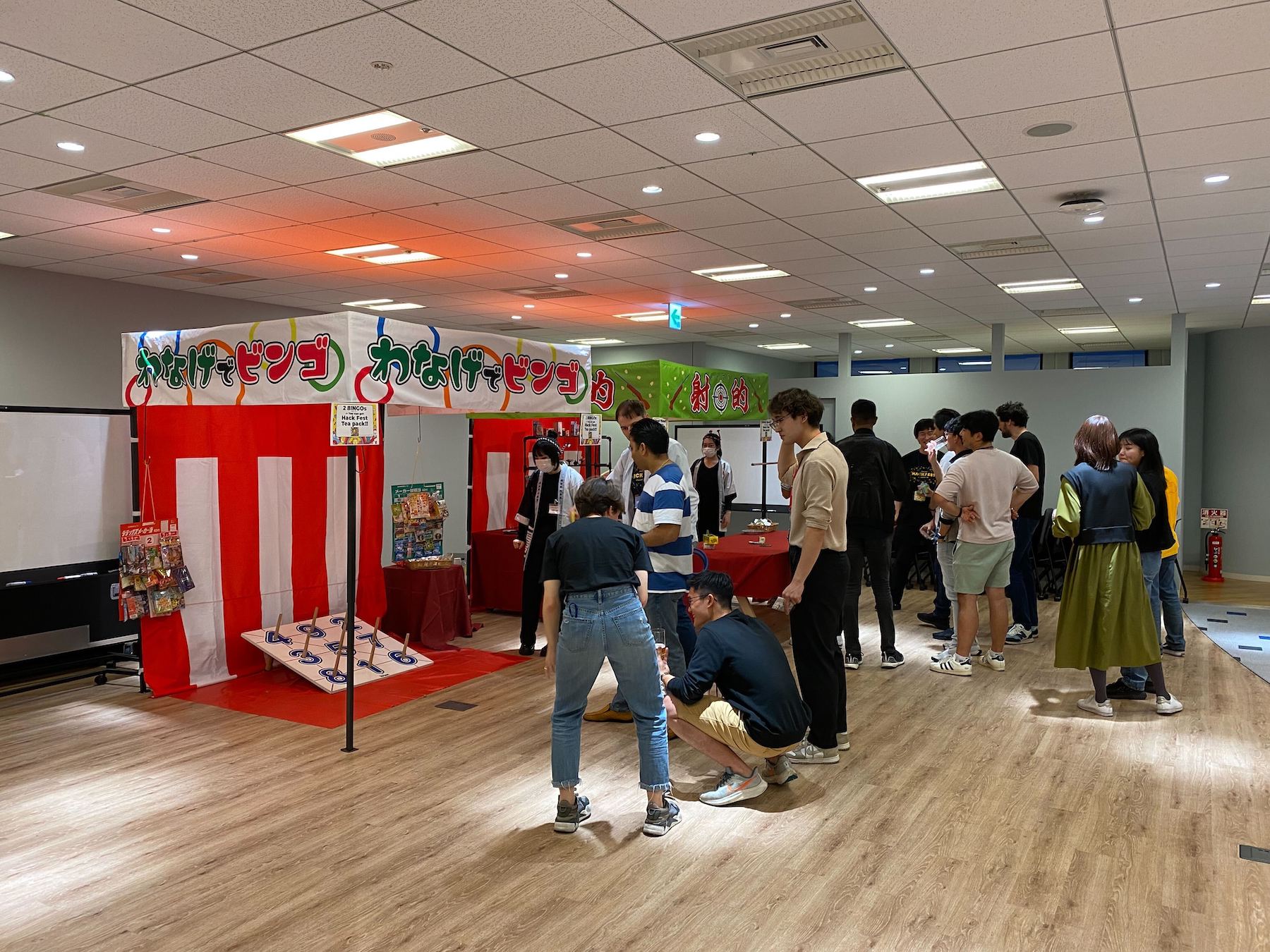 The original "Hack Fest Tea" (roasted green tea) was presented to those who scored well in shooting and ring toss games.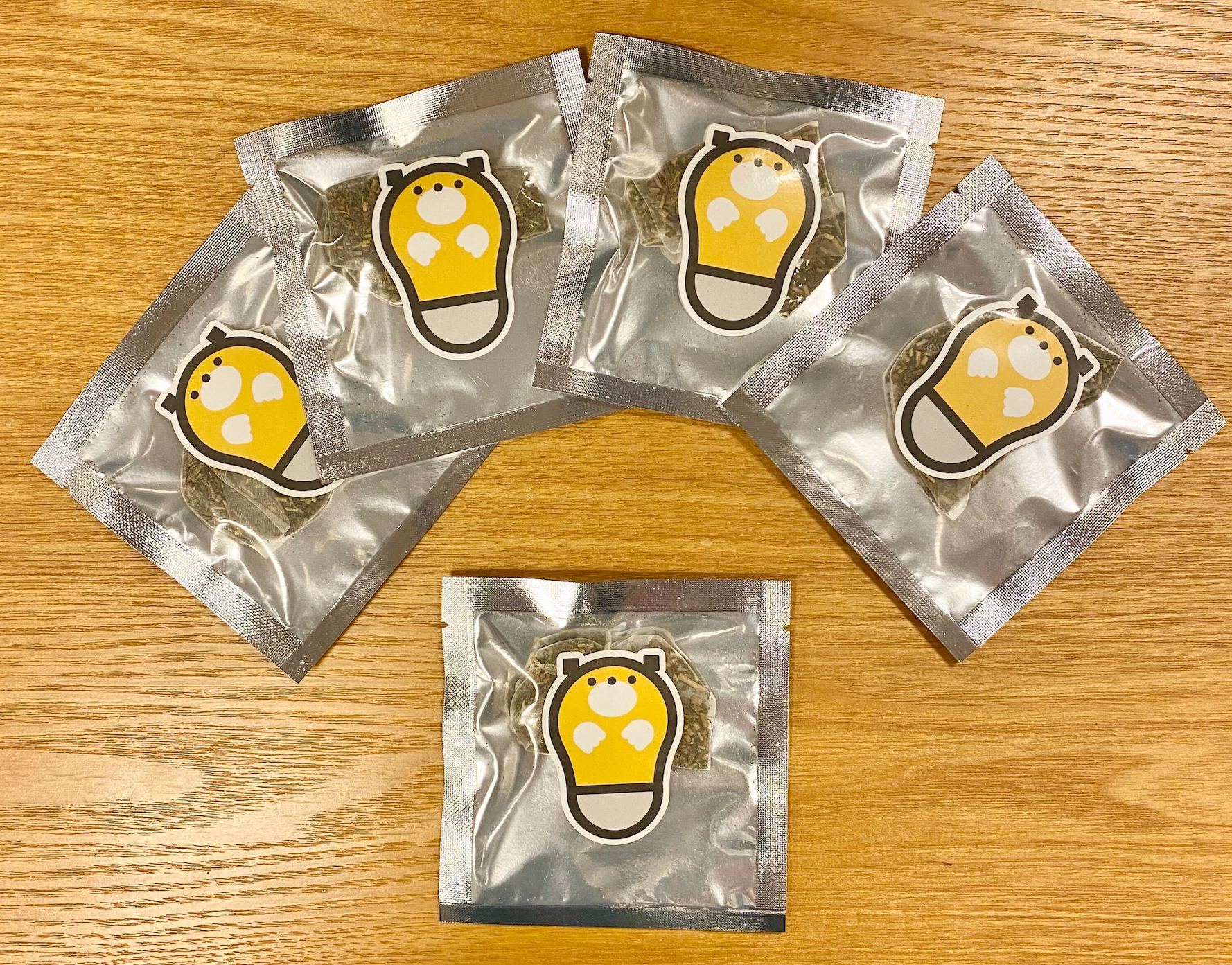 Summary
This year's event was once again a great success, with numerous excellent projects developed within such a short timeframe.
Also, the number of members participating online has increased significantly since last time, and it was impressive that they were having a lot of fun communicating during breaks and after parties, and enjoying Japanese-style festival decorations and games.
The next event will be held in autumn. We will continue to update the content and brush it up as a more interesting technology festival, so please look forward to it!