Hi, I'm @hisahiko from Engineering Office @ Mercari JP. This article is the 19th article of Mercari Advent Calendar 2020 .
This time, I would like to describe our team, Engineering Office.
In companies that hire engineers in-house, the name "Engineering Office" has become more popular recently, as a way for engineers themselves to take charge of their own human resources work.
It has become more and more common to hear about teams with the same name or teams or people that are working on things similar to us. In this article, I would like to introduce what kind of mission Mercari's Engineering Office has and what kind of activities we are working on.
Mission / Vision
First of all, let me talk about our mission. Although the scope of our activities is very wide, all of our work has the same goal:
"Provide the best employee experience for all engineers at Mercari"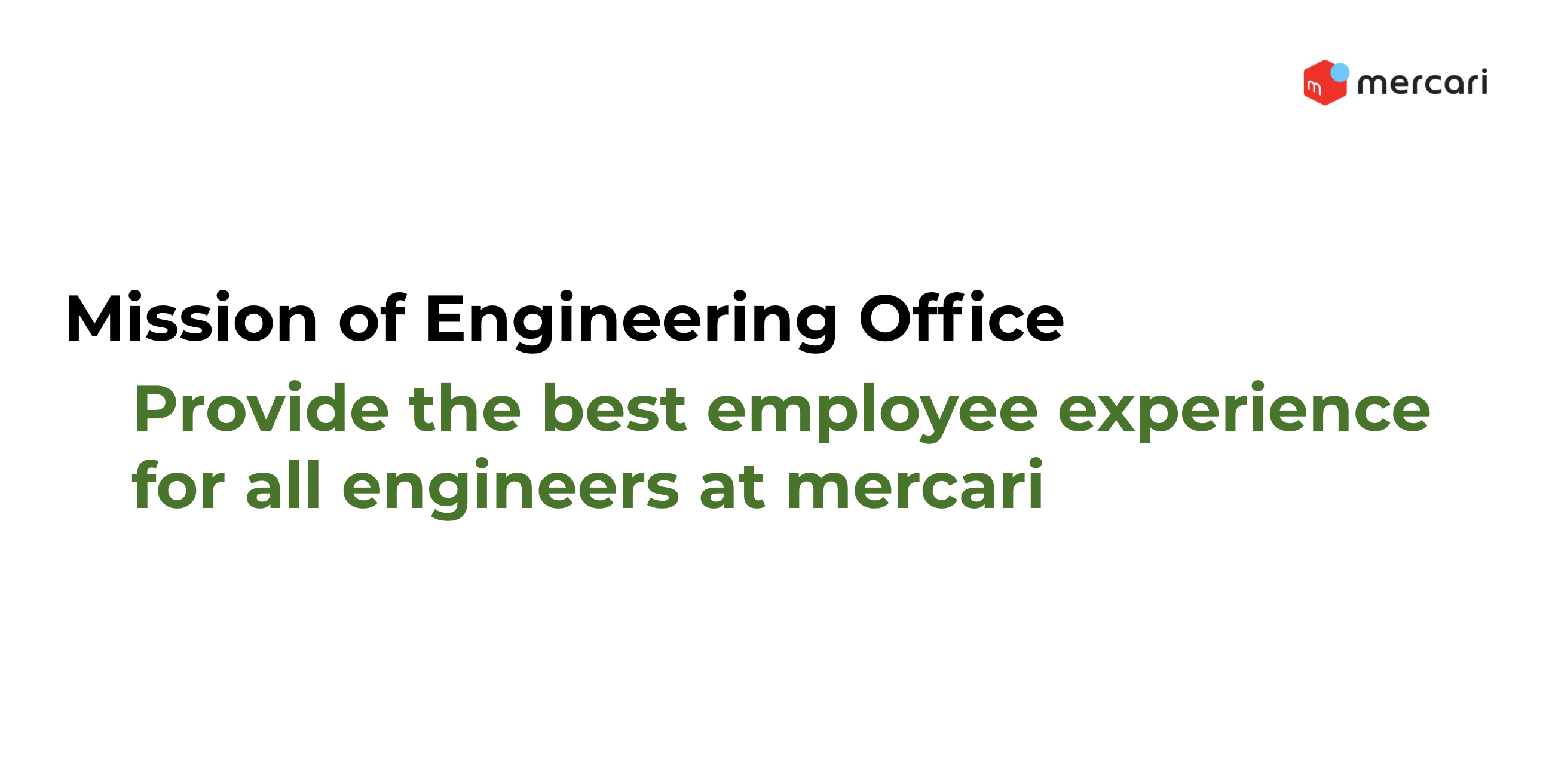 Engineers in Mercari are working hard to provide the best product for our users. We support this work through our mission and contribute what we can to get more big wins.
The relationship is as below.
Engineering Office => Work environment => Engineers => Product => Users
Everything we do should be connected to the value that we can provide to users, so when I'm explaining our mission, I usually talk about this relationship as the basis of our thoughts.
Engineering Office Vision for FY2022 is shared as our mid-term strategy for the next three years. It includes our goals for each area of our work.
Employee Journey Story for Engineers
A specific example of "providing the best employee experience for all engineers at Mercari" is defined in an document titled Employee Journey Story for Engineers and shared company wide.
This document is written as one engineer's journey story. It starts with the moment this engineer finds out about Mercari and describes their experience joining us, building their career through product development, and finally, leaving Mercari.
It provides the Engineering Office with guidance, describing the kind of Employee Experience (EX) we want to provide in each situation. All members of EO are always thinking about how we can approach the situation that this document describes and plan our actions to realize it.
I would like to introduce some excerpts.
Excerpt 1
01. Awareness
I became aware of the Mercari app through advertisements on TV.
I also know about the company that runs Mercari because I often see the name on websites related to engineering.
I saw Mercari's technology website when I was searching for technical information, and I thought that their articles were full of interesting technical information and Mercari places a strong focus on engineering.

02. Interest
I am interested in working at Mercari and have started searching for open jobs on the internet. I can learn about their efforts in technology and the company's atmosphere through Mercari's careers website and employees' interview articles.
When I try to search for more information about Mercari's organization structure and culture, I can easily find it on the engineering website that Mercari runs.
Excerpt 2
14. Leaving
I love Mercari but I decided to change my working environment for my own personal growth.
There are a lot of opportunities to discuss my future career with team members, my manager, HR, and Engineering Office.
I can understand Mercari's future vision and I hope to work at Mercari again in the future.
If I ever think about going back to Mercari, it is clear who I should contact, and Mercari considers applications from people who worked at Mercari in the past during the screening/interview process.

15. After Leaving
If I check the information Mercari posts online, I can easily stay updated on the current technology Mercari is using and the status of the organization.
I can keep good relationships with my former managers and coworkers. We stay in touch by having meals and sharing updates with each other, and we inspire each other to work hard.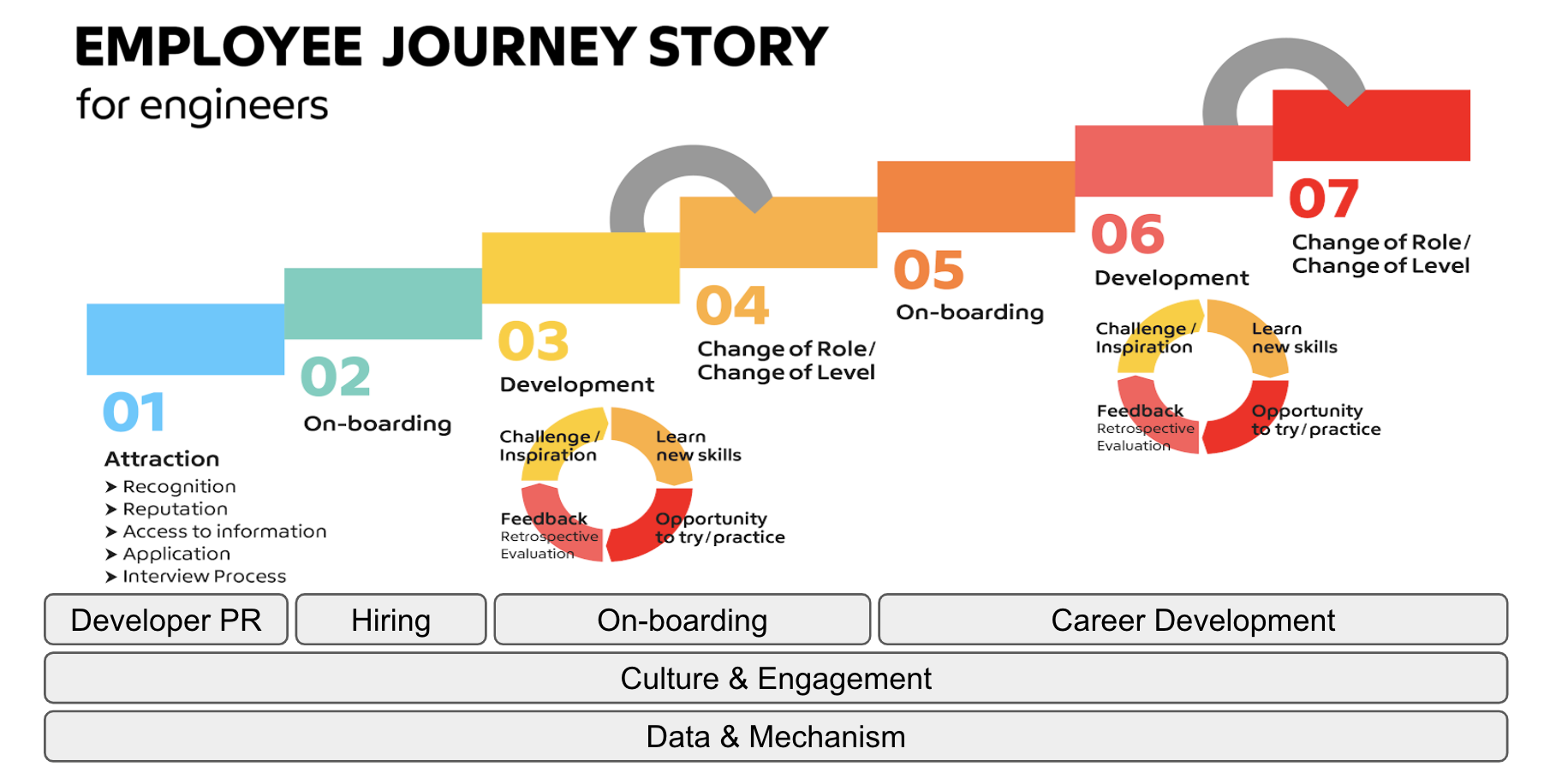 Wide range of activities
Mercari's Engineering Office is a team that is in the engineering organization, but does not have product development as a main role, and works to steadily strengthen the engineering organization.
It's close to "engineer HR", but our work is not limited to HR. The Employee Journey Story has various components, so we are involved in a diverse range of activities to cover them.
We work in the following 6 areas.
Developer PR
Hiring
Onboarding
Career Development
Culture & Engagement
Data & Mechanisms
The following activities are carried out in each area. Since there have already been many articles written about these so far, I added relevant links that you can click to find out more about each of the projects.
Developer PR
Hiring
Onboarding
Team onboarding
Role onboarding
Career Development
Definition of roles and responsibilities
Skill development
Culture & Engagement
Data & Mechanisms
Designing evaluation processes
Gathering and analyzing member and team data
Designing the promotion process
Building the knowledge base
What Engineering Office actually is
So far, I have talked about how we have only one mission but play diverse roles. In this section, I would like to write about what the Engineering Office actually is.
The role of Engineering Office is not yet very common in the hiring market, so there is no written definition of roles or careers. I think that people of other companies who are reading this are also probably thinking about their roles independently. I think that the ideal of this type of team in this role will vary from company to company and situation to situation.
Each area also requires deep expertise. There are various answers to how we should proceed with various activities as a team, and we should not think that there is only one best way. With that in mind, I would like to write an example from Mercari here as a case study.
Let me introduce the document named "EO actually", which is used in our team and defines what Engineering Office is.
I won't go into details due to space limitations, but here's the outline.
EO Actually
What EO is
Base concept
Roles and responsibilities
Required actions
Recommended skills
Mindset
Passion
Positive thinking
In addition to areas of work and roles, this document defines the skills and mindsets that are the basic requirements other than professional details. This shows how we believe EO members should be and provides direction for members to grow.
The reason why I created this is that there were actually the following concerns.
Little sense of working as a team (because each person is in charge of different things)
Restricted Assignments (because each area requires different expertise)
Unclear career path and direction for EO members
Since the role of Engineering Office is not commonly understood, there is not much literature and there are few role models to look up to, so we are in a state where we have to define our role by ourselves. By defining in words what Mercari's Engineering Office is like, I would like to be able to use it as a hint for solving the above problems and as a guideline for various activities.
For example, when hiring, we use it as a base to write the job description, and when existing members are having trouble with their careers, we use it as a reference to see what areas they should strengthen.
In the future, I would like to use EO Actually to discuss how our team should be with the other members, and continuously update it so that it can always be aligned with the current state of the team.
In summary
I hope you enjoyed reading about Mercari's Engineering Office. I think that each company has different team formations and activity scopes for roles like this. I myself am very interested in what other companies are doing, so if you are doing similar work, let's exchange information!
20th article will be written by @masaki.haga. I hope you are looking forward to it!