Circular economy: Report on Sustainable eCommerce
The long-term solution for growing conscious consumers
Hello!
This is Pramendra from Advanced Technology Team.
In Advanced Technology Team, we research business and technology trends around the world.
We're excited to share that we'll launch a series of five reports based on our findings!
In the first session, we will be discussing sustainability and how it manifests itself in practice, especially in e-commerce.
DO YOU KNOW ?
1.2 billion tons of greenhouse gas emissions a year – more than international flights and maritime shipping combined.
EU unveils planned carbon tax
Carbon dioxide (CO2) emitted to make an imported good, has climbed to more than EUR 50 (USD 61) a metric ton of CO2
Sustainability refers to behavior that does not deplete natural resources and promotes long-term global ecological equilibrium. To put it another way, sustainability is typically viewed as balancing meeting current needs without jeopardizing future generations' ability to meet their own. Consumers are discovering that the efficiencies that have come to define our modern culture — from lightning-fast shipping to single-use plastic packaging — are not sustainable given our planet's finite resources.
On average, 73% of clothing is thrown away, while 95% is either used or recycled. Shipping products around the world on a regular basis has resulted in an increase in emissions and waste packaging. As a consumer, we are responsible for 60% of the world's greenhouse gas emissions (GHGs).
Based on Nielsen data, 81% of global consumers agree that companies should improve the environment. One used item decreases its carbon, waste, and water footprints by 82% when purchased second-hand. The consumer market for sustainable products is delivering $113.9 billion in sales in 2018 and is expected to grow to $140.5 billion by 2023.
There are many ways brands can incorporate sustainability:
Business models
Packaging and shipping
Value chain
Circular Economy: Future of Sustainability
A Circular Economy is trending due to sustainable concerns. Today's world supply-chain business model is not suitable for the future. Countries have also created policies to reduce waste and increase responsibility towards waste management. Many brands have adopted the idea of Circular Economy and rethinking their business practice. Many startups have created their Circular Economy Marketplace.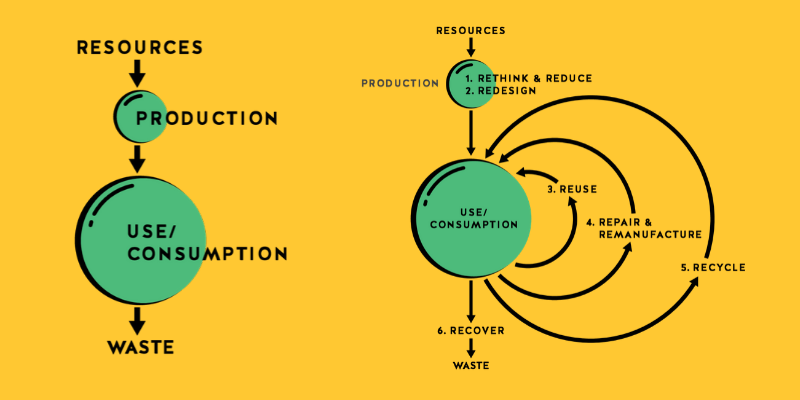 Image credit: source
The circular economy aims to redefine growth, focusing on positive society-wide benefits. It mainly focuses on reuse, repair, and recycle items. The three principles of circular economy are:
Design out waste and pollutants
Keep product and materials in use
Regenerate natural systems
Importance of sustainable e-commerce
E-commerce is exploding and shows no signs of slowing down. However, as e-commerce expands, so does its environmental footprint. Here are some of the reasons why e-commerce should join the sustainable revolution.
Attract a more extensive customer base
Consumers conduct 88% of their research online before making a purchase, whether it is online or in a shop. Other than that, consumers are also willing to adjust their shopping patterns to decrease their environmental effect, with 57% saying they are willing to do so.
Over 70% of individuals who value sustainability would pay a 35% premium on average for sustainable brands.
Future-proof operations
The globe now consumes three times the amount of raw materials it did 50 years ago. To future-proof supply chain operations, sustainable practices are required.
Maintain shareholder confidence
Around 85% of individual investors are more interested in sustainable investment than they were two years ago, with an increase of 10%. For instance, Walmart suppliers with high sustainability ratings will be rewarded financially by HSBC and The Sustainability Consortium. Suppliers who perform well qualify for HSBC's preferred lending rates.
Sustainability means profit
Companies are embracing the circular economy, strengthening their ecological credentials, and generating a profit in the process, as so-called "take-make-waste" business models face more public scrutiny. Now is the time to invest in a circular economy model, as more people are focused on building a resilient economy and correcting the climate problem. If investors take advantage of this game-changing opportunity, future generations will be able to reap the economic, environmental, and societal benefits of a new era.
Top players sustainability initiative
Retrofitting and refurbishing are predicted to overtake thrift and giving by 2024. The retail industry would fall by 15% between 2019 and 2021, while internet secondhand is expected to rise by 69%. Here are a few examples of e-commerce sustainability use cases:
Vision: For a society where finite resources are used sparingly, and everyone can create new value.
Mercari is taking on initiatives in five areas as part of our continued efforts to achieve a more abundant society:

Creating a Circular Economy/Mitigating Climate Change
Diversity & Inclusion
Local Empowerment
Safe, Secure, and Fair Transactions
Corporate Governance and Compliance
Cainiao, its logistics arm, promotes green logistics initiatives, including "green packaging."
Utilizes biologically degradable courier bags, tape-free boxes and package recycling bins, and green warehouses, which have installed solar panels.
Developed a packaging optimization algorithm, which reduces the use of packaging materials by ~15%.
Uses statistical models to help optimize packages for reduced damage and lower costs.
As of 2020, ML tools have reduced the use of boxes from 69% to 42% in favor of padded mailers.
Mailers (padded paper envelopes) are 75% lighter than a box and occupy 40% less shipping space.
The global online market for indie makers pledges to completely offset its shipping emissions.
Every time purchase is made, it balances out the carbon emissions by creating a positive environmental impact.
Partnered with 3Degrees, the carbon offset programs include:

protecting a forest in Minnesota that would otherwise be clear-cut,
supporting both wind and solar projects in India, and
investing in a greener project to build parts for lightweight vehicles.
A consumer resale marketplace is touting the representation of over 35,000 brands.
Provides sellers with prepaid bags to fill, picks the bags up from their doorstep, and then compensates them for items determined to be resalable.
Customers then can shop for used clothing on thredUP's website.
In 2017, announced Project Gigaton, an ambitious goal to reduce GHGs in its supply chain by one billion metric tons.
1,000+ committed suppliers have already reduced emissions by 93 million metric tons.
Emerging startups embracing the circular economy
It is remaining competitive means maintaining a strategic advantage. When you consider technology's recent advances and the rapid evolution of countless industries, it's not hard to imagine massive emissions that contribute to global pollution. Then there's the issue of wasteful spending and transportation to landfills or incinerators, to name a few.
A circular economy in the digital era helps companies gathered valuable information about a product while ensuring its quality and traceability. Even though the primary focus of climate action has thus far been on renewable energy, combating climate change will necessitate a fundamental rethinking of how we manufacture and use products. Here are some of the companies that have implemented circular economy business models to their products
Enables people to rent technology monthly

It removes the need for the upfront capital expense and allowing for more flexibility than an outright purchase or financing plan

Allows subscribers to select from over 3,000 products
At the end of the subscription period, the customer can either buy the product, send it back or continue on a month-to-month basis
Returned products are refurbished to an 'as new condition and recirculated to make sure they stay in use and out of the landfill
Wardrobe, a P2P rental marketplace for luxury and vintage fashion, has acquired Rent My Wardrobe, a Dallas-based peer rental business popular in the Southern U.S.
Rent My Wardrobe was recently valued at $4 million

Allows its users to share their closets on its app and lets them coordinate directly to pick up and return the borrowed garment
Launched LK Borrowed, an unlimited subscription clothing rental service
For a $110 a month fee, members receive two items in their first box and can make unlimited exchanges with free shipping both ways and complimentary eco-friendly laundering
With unbundled returns, the customer can return garments 1 or 2 at a time, creating the ultimate wardrobe
Guilt-free fashion consumption is one force behind the UK's rental appetite.
A survey from Barnardo's found that in 2019, Brits looked set to spend £2.7bn on summer outfits that were worn once before being chucked.
One-time wear is fueling the textile industry's 1.2 billion tons of greenhouse gas emissions yearly – more than international flights and maritime shipping combined.
company has raised $122.5 million to date
"significantly expand" the brands it partners with, enhance its technology and logistics infrastructure, venture into the luxury space and reach European shoppers
currently lists REI, Patagonia, Nordstrom, Levi's, Eileen Fisher, and Lululemon as retail and brand partners, among others. (brands partnering in resale economy)
processed almost 1 million items and oversaw more than 10 million catalog records last year, a three-fold increase from 2019.
Mercari and emerging technologies improving UX
While technological advancements are projected to continue to enhance efficiency, the main difficulty is transitioning from a linear to a circular economy, in which "waste" is reintroduced into the system, drastically reducing our resource consumption and environmental effect. Technological advances have catalyzed the development and implementation of circular business models, and the e-commerce industry is no exception. Here are some technologies that we unknowingly help in implementing sustainable e-commerce:
AR for trying shows, measurement
By 2023, the estimated shipping of VR/AR will have nearly doubled.
COVID is being used by beauty and fashion firms to give a better experience while shifting behavior and expectations in the future.
Due to the COVID, health restrictions and protocols have pushed to embrace this adaptation. The marketplace is using tech to provide in-store experience online such as:
Immersive experience
Interactive experience
Personal Recommendation
Body size recommendation to allow using AI
Smartphones can be used to measure provided by digital measurement technology. The measurement is done using a camera or sensors on the gadget (gyro, accelerator). Both employ patented techniques and artificial intelligence (AI) to improve accuracy. During the epidemic, technology adoption has skyrocketed, and accuracy and user experience have aided its popularity.
Clothing is one of the most popular categories, and the inability to select the right size is the main reason for the reduction in conversion rate. In Mercari, we use Bodygram tech for size measurement. Body measuring is a new technology that helps customers buy things and reduces repurchases or returns due to incorrect sizing.

Carbon footprint awareness via AI
We can only have the impact we need to counteract climate change if we use innovative technologies. By 2030, companies may save and earn $12 trillion by embracing sustainable, low-carbon business models. Mercari has devised the option for the users to see their carbon footprint and ways to reduce that. We may increase its impact and ensure that it is on the right side of change by managing its carbon footprint.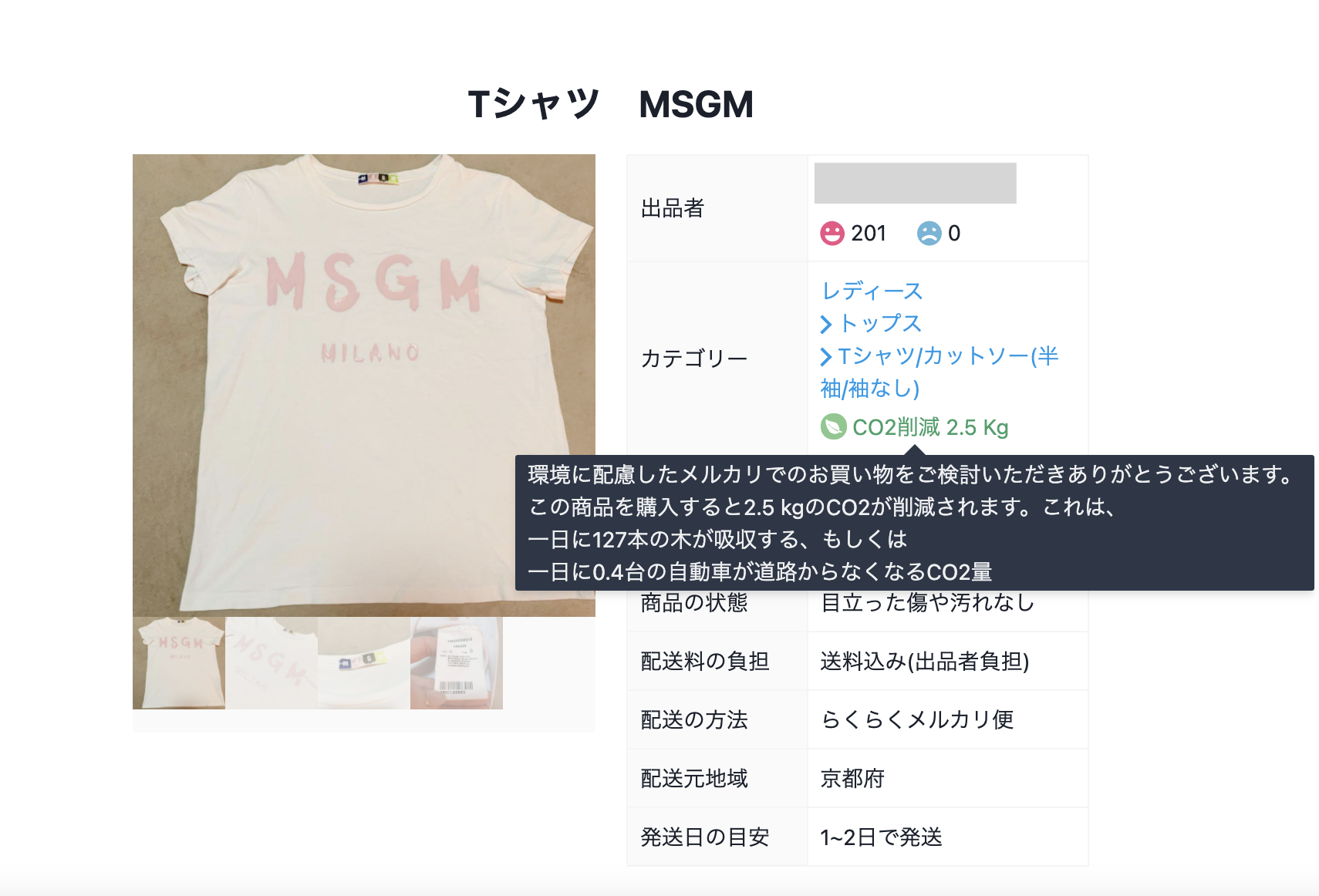 Key Learnings
Customers' shopping habits have evolved dramatically in recent years
These days, customers are more likely to purchase on the spur of the moment rather than as part of a planned, defined activity, and more often than not, this occurs while they are engaged in other activities.
Sustainability has reached the tipping point
Consumers look for items and companies that correspond with their values as they get more involved in social problems. Based on research, more than half of those polled said they'd be willing to adjust their buying habits to decrease their impact on the environment.
Impacts from the circular economy
Many established companies are being disrupted, and new opportunities are being created due to consumers' rising focus on sustainability. "Circular economy" is growing in popularity, and it offers alternate means to obtain products, such as renting them and buying pre-owned goods, as examples.
Summing-up
E-commerce and environmental sustainability are compatible, and adopting sustainable measures to your online business is a wonderful chance for business success. Consumers and retailers must adapt to the changing reality. A new era of sustainable business will undoubtedly reward those who are daring and responsible enough to lead the way.
E-commerce's role in helping to save the environment is becoming increasingly apparent to shoppers as the green trend continues to rise. In addition to ecologically friendly shipping and sustainable fulfillment, they insist on fair and lasting product design that is sustainable.
Making the switch to eco-friendly e-commerce doesn't have to be expensive, especially in the long run. It's wonderful for marketing and helps you gain a strong brand image as a responsible merchant on the market. So now is your chance to use this knowledge and implement a sustainable strategy for your business.
We aim to inspire and connect with innovators in making a strong community of emerging tech enthusiasts to make a better society. Together we can re-invent, let's innovate.
Please like and comment if you like the post. We are planning to post similar posts followed by an online event.
Advanced Tech Team
The Advanced Technology team has been creating mechanisms to analyze the impact of emerging tech, social trends and build solutions to improve the experience. If you are passionate about emerging technologies and make a bigger impact. Please join the passionate team of the research team.
and "Be the change you wish to see in the world."