Hello!
This is Pramendra from the Advanced Technology Team.
In the Advanced Technology Team, we research business and technology trends around the world.
We're excited to bring you another trend report based on our findings. Previously, we have discussed Social Commerce and in this post, we will be looking into Autonomous Delivery Robots and their implications.
Do you know
What is an autonomous delivery robot?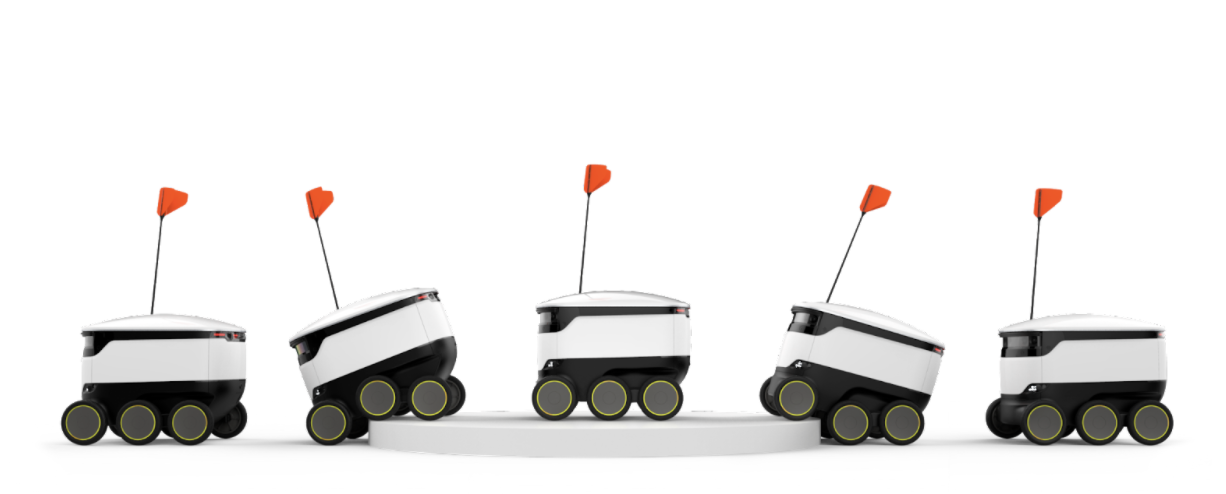 Image credit: source.
Autonomous delivery robots (ADR) are electric-powered motorized vehicles that can transport goods to customers without the need for human intervention. These robots are loaded with cargo and will go to a final destination and then be unloaded by the customer. Among the items to be supplied are food and supplies. ADRs have been used in many industries, particularly in healthcare, hospitality, logistics, and retail.
Why is it a trend?
The competitive landscape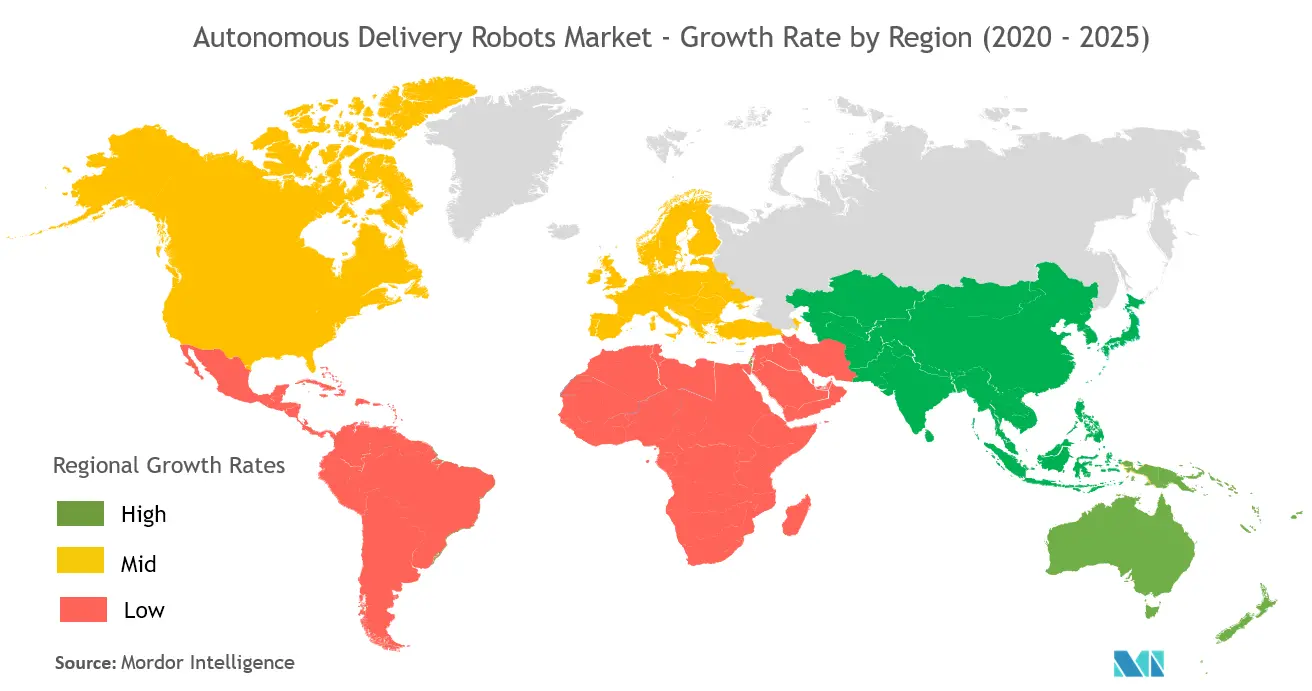 Image credit: source.
The fastest-growing market for ADRs is in the Asia Pacific while its largest market is in North America. North America is the second largest e-commerce market after Asia-Pacific with a high number of e-shoppers. The United States alone has over 80% of the population shopping online. This means that a vast e-commerce market will lead to retailers investing in their supply chain capabilities. One of those investments happened to be investments in the ADRs sector.
Funding trends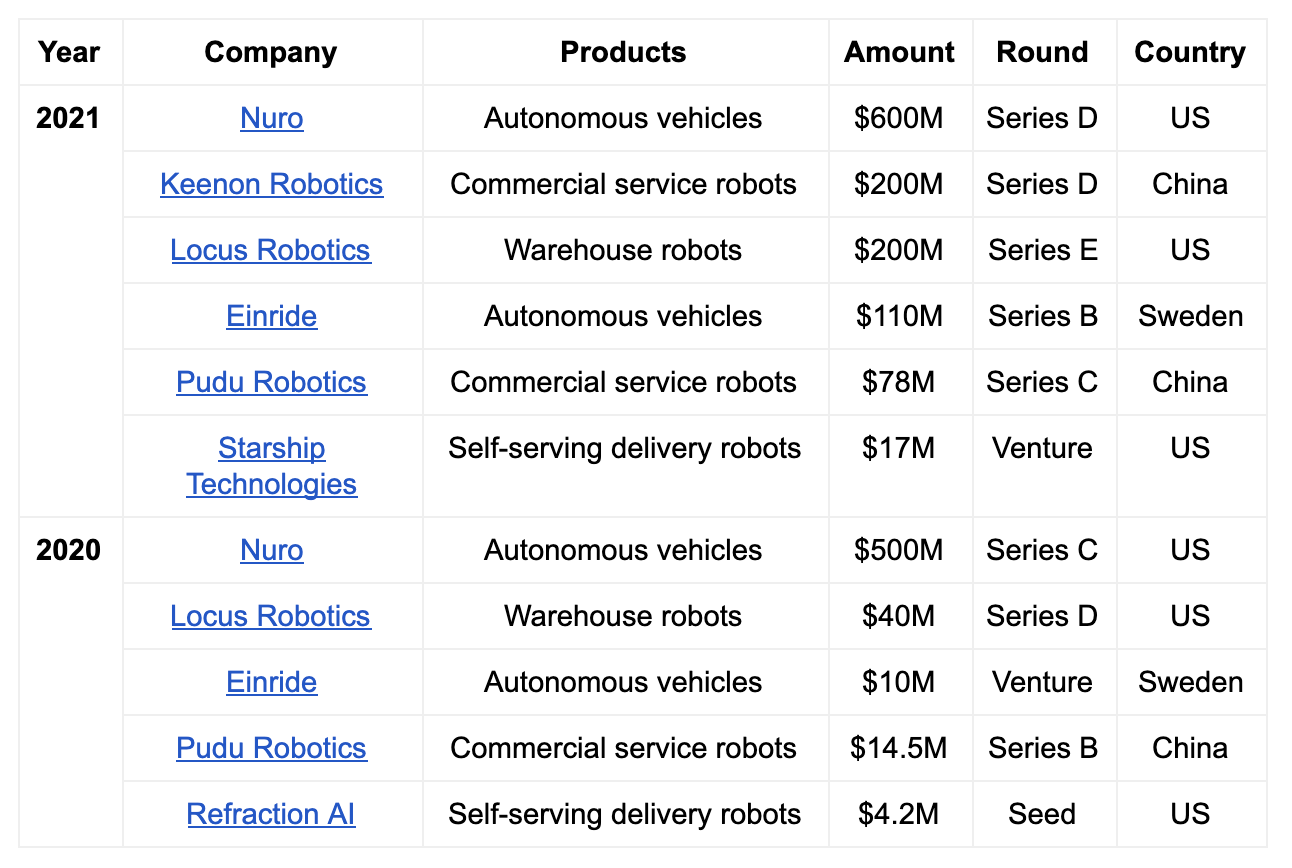 The driving factors
The current status quo and emerging trends are pushing the adoption of ADRs more and more into many industries. Here are a few of those driving factors:
Aging population
The world population aged 65+ will triple from 6.9% to 20% by 2050 and Japan is the most rapidly aging society with 28.2% now are in this age group. This is why robots are adopted to fill the gaps in an aging industrial workforce. There are two implications with the aging population: ADRs can help with the acute labor shortages since it becomes harder to hire people and ADRs can help with the care for older citizens, i.e. grocery delivery and nursing. Either way, ADRs present opportunities for companies to maximize their uses. Companies like Japan Post and Rakuten are already tapping into ADRs.
Shipping
The pandemic has accelerated the growth in the volume of goods transported. This puts pressure on the final leg of product delivery to the end-user or "the last mile." Shipping is already a blocker for e-commerce especially for small businesses, as it takes 20% of order value which is quite high and the last mile accounts for 41% of overall supply chain costs. With ADRs, they could lower the cost of delivery by 20X.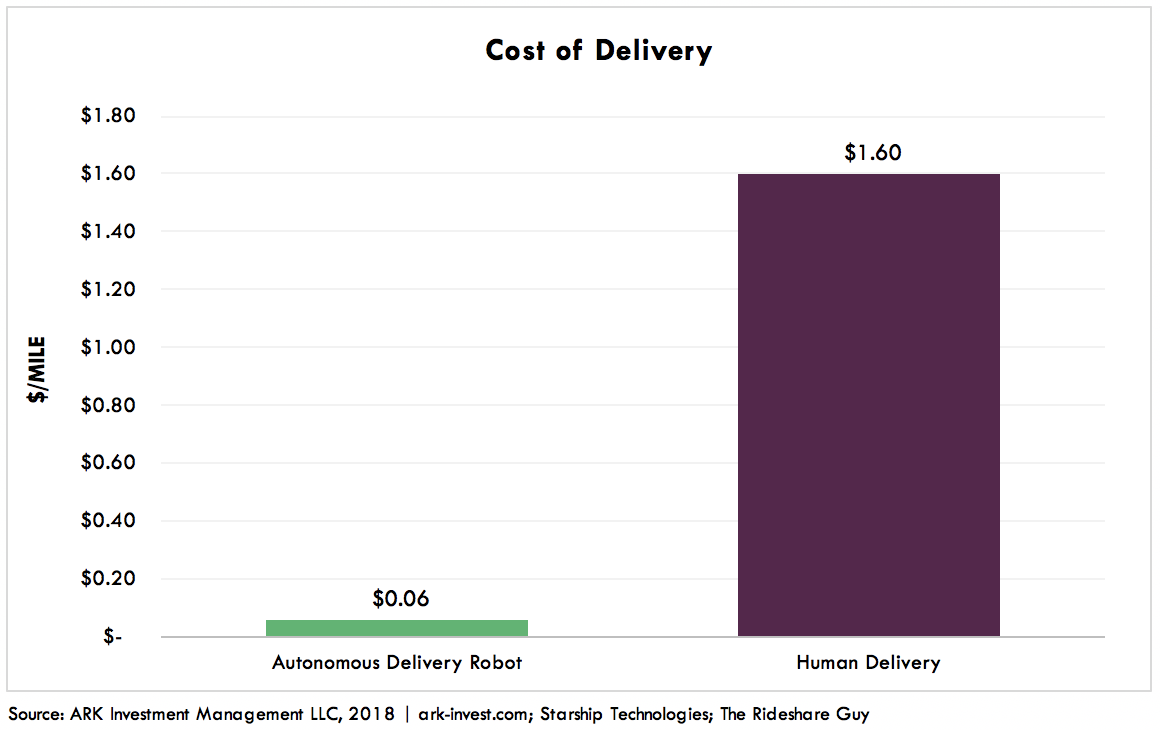 Image credit: source.
Social commerce
Social commerce is valued at $89B and is projected to grow to $605B in seven years. Consumers are increasingly making purchases on social media, i.e. 81% of shoppers research products on Facebook and Instagram, and US social commerce sales will grow more than 35% to surpass $36B in 2021. Through checkout integrations, social media offers a frictionless shopping experience. Distribution and transportation businesses need to adapt to keep up. This is where autonomous delivery comes in to fill the gap.
Sustainability
Green consumerism is growing as consumers are increasingly aware of the environment. 56% of consumers are buying locally or patronizing neighborhood stores. 75% of consumers are planning to shop more locally over the next year. This is the form of local commerce. Local commerce is getting preferred because it reduces long drives and the carbon footprint per online order. ADRs can easily fit in the effort of both green energy delivery and local commerce because ADRs can reduce CO2 emissions from goods transport by 12%.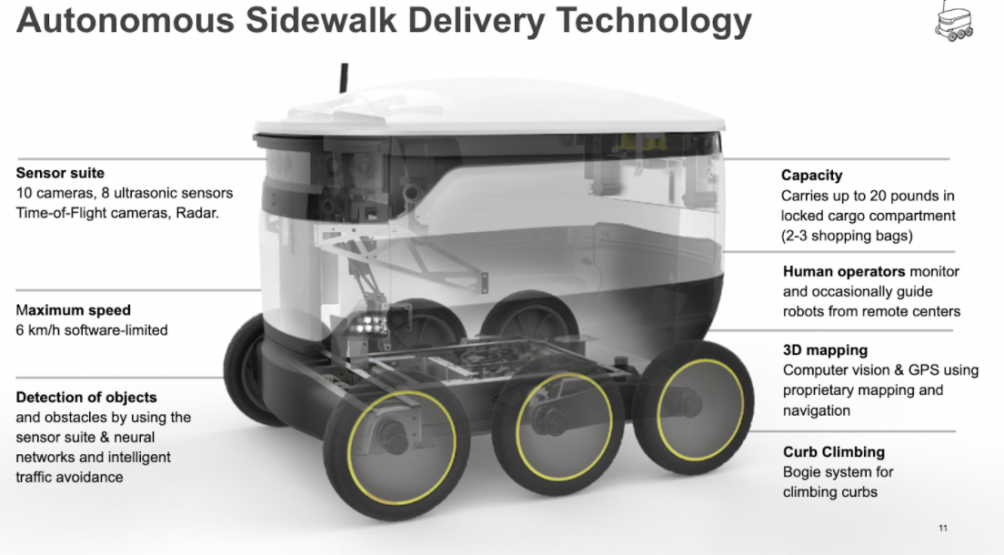 Image credit: source.
The unique value propositions
There are aspects in which ADRs win against other methods of delivery on the market. Here are a few of the unique value propositions that ADRs have:
Affordability
ADRs serve more customers at more economic costs as it travels more distances in a much safer manner. This, in turn, will help companies save on both delivery costs and labor costs.
Efficient energy
In comparison, smaller ADRs have higher utilization of electric commercial vehicles, making these robots more energy-efficient. Moreover, the adoption of ADRs is further supported by various laws being put in place to control global warming, such as The European Commission's objective of decarbonization by 2050.
Increasing demand
There is an increasing demand for ADRs as it is being pushed by the increasing number of e-commerce players and omnichannel retailers worldwide and last-mile delivery. The pandemic has made consumers demand more contactless delivery.
Types of ADRs
ADRs are bifurcated into indoor autonomous delivery and outdoor autonomous delivery. As a result, there are indoor ADRs and outdoor ADRs.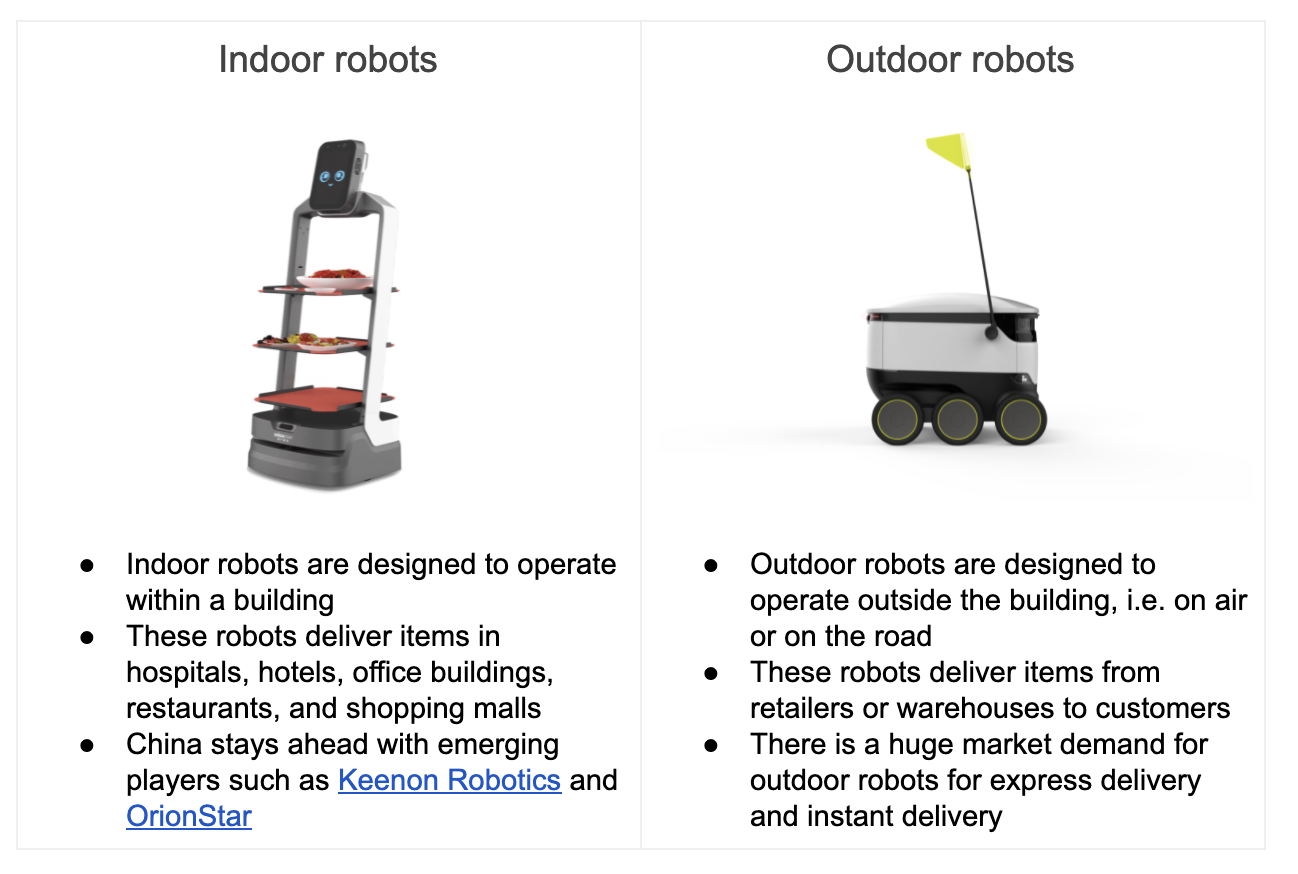 ADRs use cases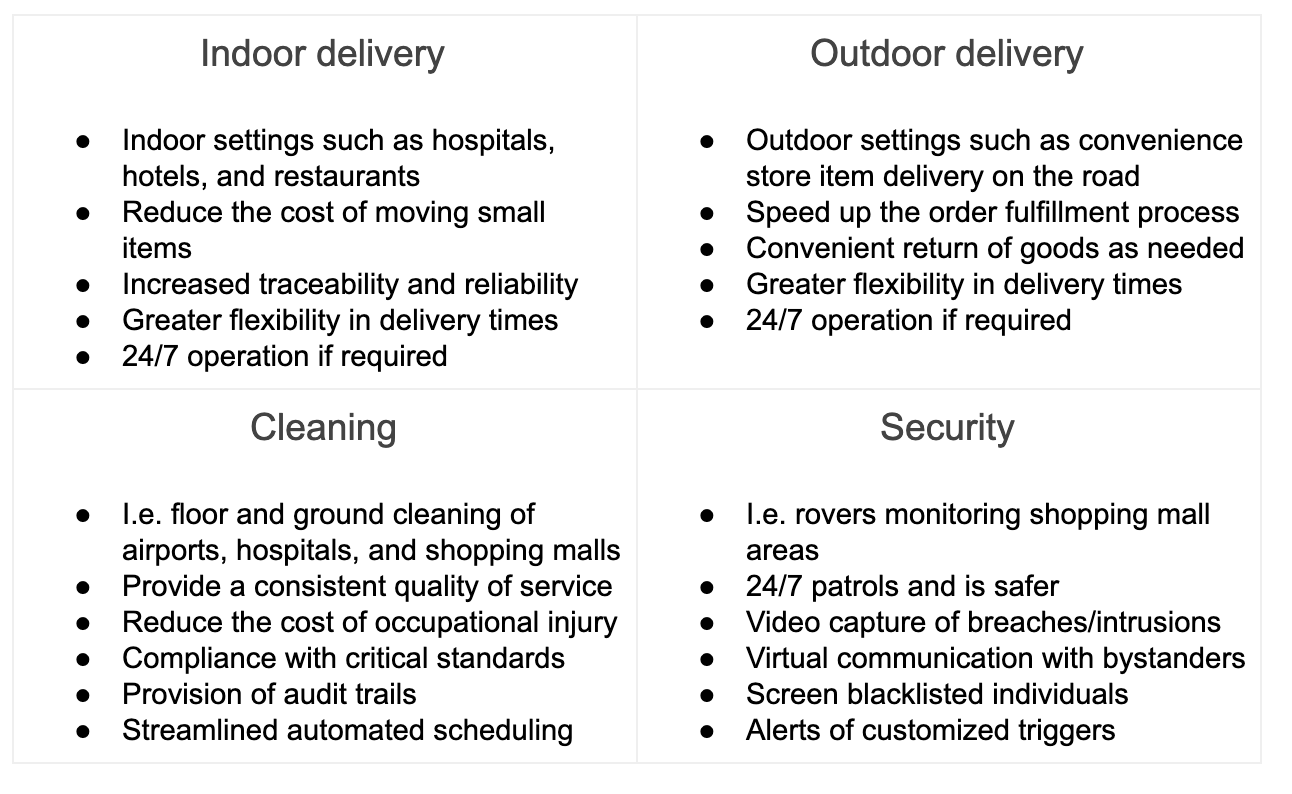 Smart city: Impact of autonomous vehicle
Autonomous vehicle technology can further push urban mobility in smart cities. In its most ambitious initiative on smart cities, the government of Japan has chosen 74 projects in 62 regions for public support. This is twice the ones in the latest Smart Mobility Challenge. The proposals cover a wide range of solutions in rural and urban environments with an emphasis on regional connectivity, such as autonomous driving, drones, integrated ticketing, on-demand mobility, and more. If well-executed, this is a big commitment towards advancing digitalization.
Top players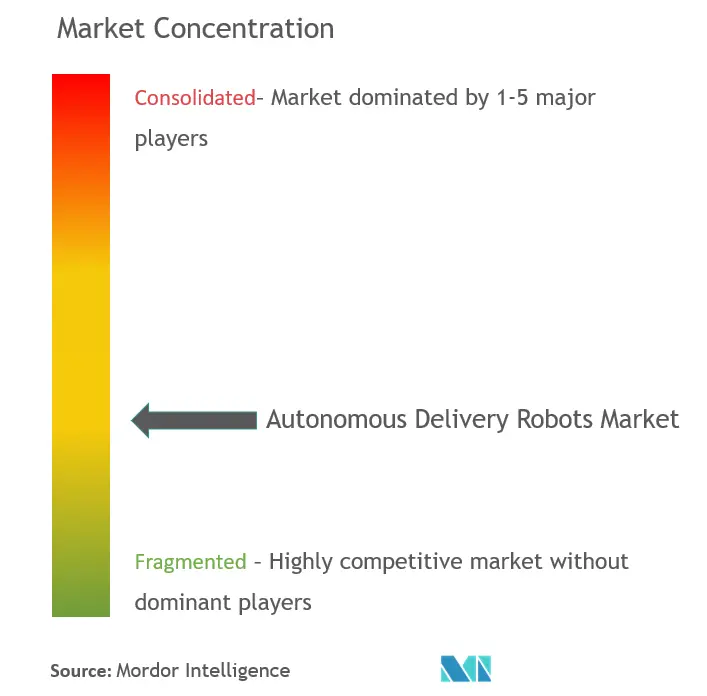 Image credit: source.
The ADRs market is highly competitive and consists of several major players. Few of the major players currently dominate the market in terms of market share and they are focusing on expanding their customer base across foreign countries.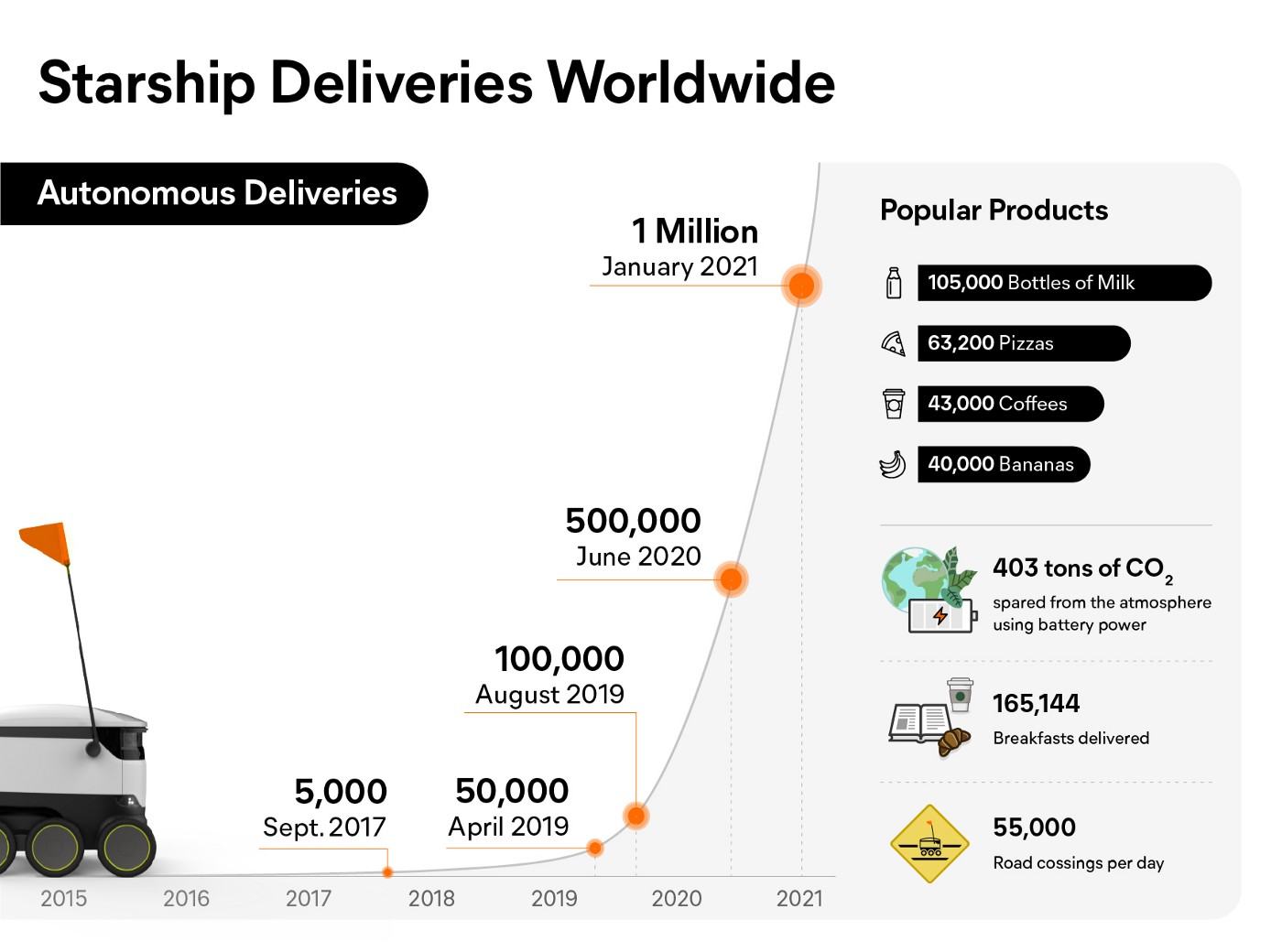 Image credit: source.
One of the top players in the ADRs sector, Starship Technologies, completes one million autonomous deliveries since its founding year in 2014. Starship delivers food from restaurants to campuses in the US such as UCLA and Bridgewater State University. Starship robots are able to provide contactless food and grocery deliveries at such a challenging time for so many people. Demand has increased 5x in neighborhoods since the beginning of the pandemic.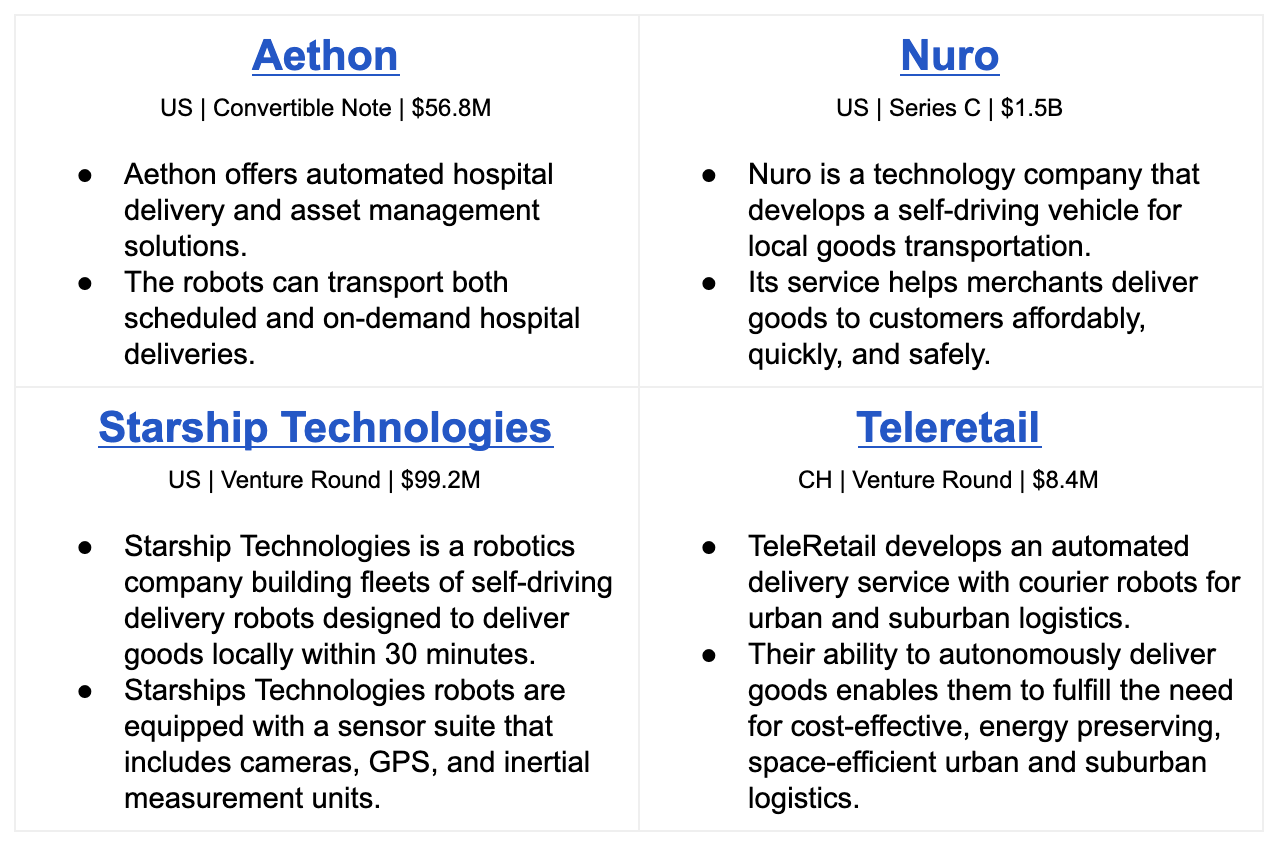 Emerging players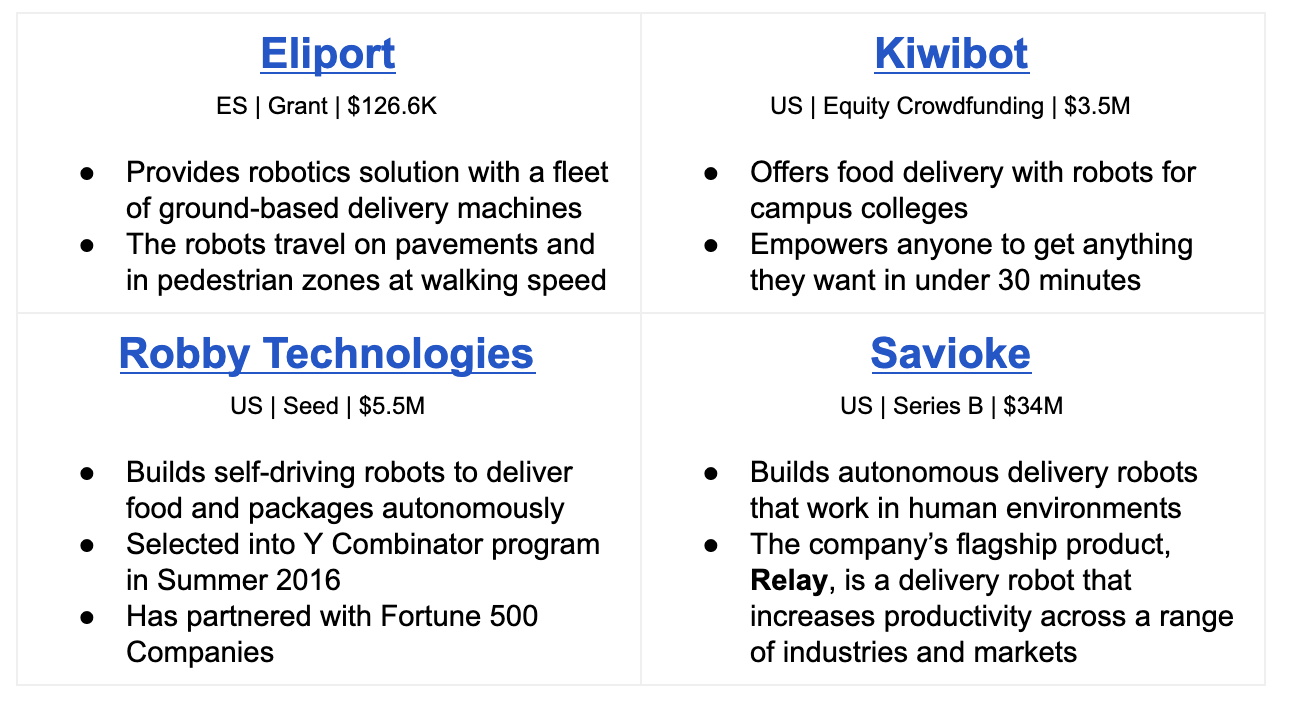 Companies are using ADRs
Alibaba Group Xiaomanlv robots hit e-commerce delivery milestone
The robots have delivered over a million parcels in China within a year of their launch
Delivered to over 200,000 consumers in 52 cities across 22 Chinese provinces
Each one can carry about 50 packages at a time, delivering ~500 boxes per day
Expects to expand the fleet from 200 to 10,000 robots in the next three years
Japan Post delivery robot debuts in Tokyo
Roll out a self-driving mail delivery robot as demand grows for minimizing human contact
Using built-in cameras and sensors, the robot operated on a sidewalk
The robot is in the middle of test runs that began in September until late October
In hope, they will alleviate the acute labor shortage in the aging country
Rakuten's self-driving delivery robot hits the streets of Yokosuka
Roll out a delivery robot in Yokosuka City, Kanagawa Prefecture
The red delivery robot is loaded with groceries and has four wheels to hit the streets
Employ a UGV (unmanned ground vehicle) manufactured by Panasonic
Target residents who have trouble traveling on winding roads, i.e. aging citizens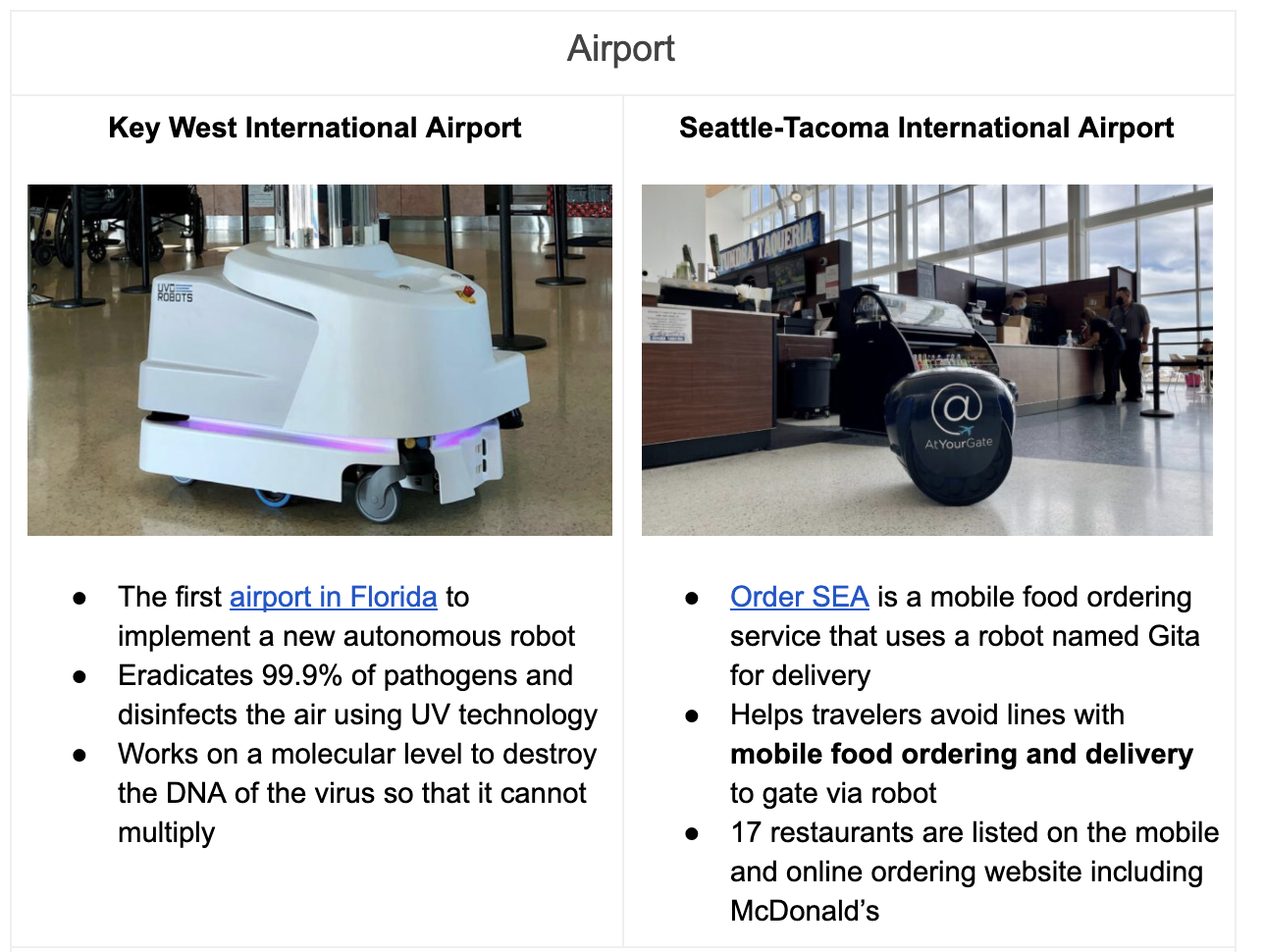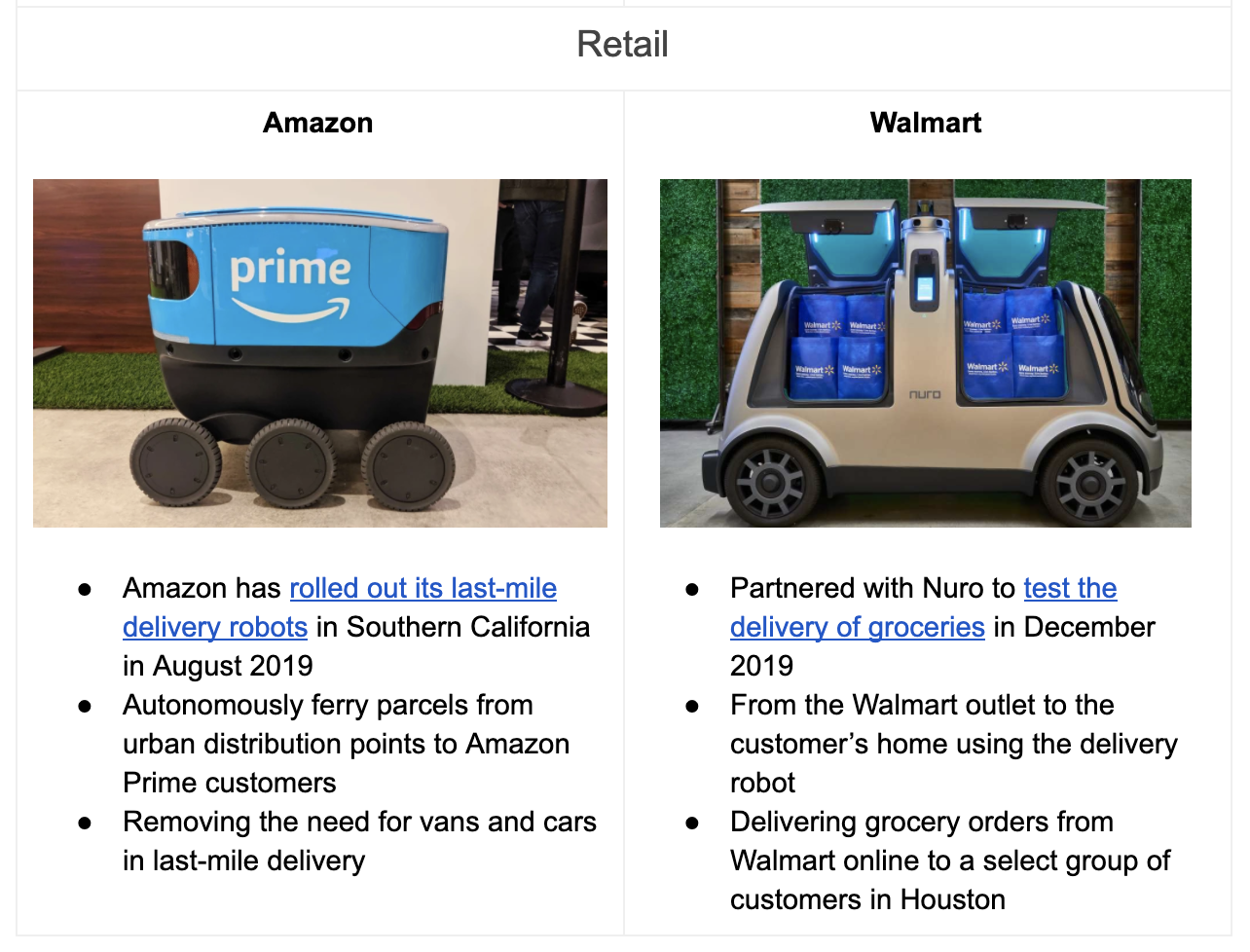 How the future will look like
Consumers are accustomed to social distancing and stay-at-home orders. They have grown more comfortable with autonomous robots and vehicles in their everyday lives. Here is how the future will look like with ADRs:
Goods delivery will be the largest sector of growth
64% of shoppers spent their holiday budget online in 2020 and it's likely that behavior switch will have lasting implications. The preference for online shopping will stick around post-pandemic. Thus, the goods delivery sector will likely embrace autonomous technology.
Usage for highway big rigs and last-mile delivery
Autonomous technology is considered more profitable and safer. On the trucking side, major developments are in the works, such as Waymo with its research and development facility opening for autonomous trucks, and companies like Aurora, Ike, and TuSimple are all pushing for trucking deployments on real highways. On last-mile delivery, autonomous delivery has really taken off. The pandemic brought Refraction AI's restaurant delivery business to another level and will expand into grocery delivery over the summer and companies like Nuro and Starship have also experienced massive growth.
More efficient and sustainable cities
Existing last-mile logistics systems are shifting from carbon-burning vehicles to emission-free autonomous vehicles. ADRs are roughly 7X more efficient than electric vehicles on a mile per kilowatt basis. This presents an effective solution to limiting urban climate-change contributions.
Lidar will continue to grow and move to public markets
As the technology evolves and matures, more lidar companies go public, i.e. Innoviz Technologies, the Israeli provider of LiDAR sensors and perception software, goes public at a $1.4 billion valuation. Apple produces self-driving cars is also an indicator of the trajectory of lidar.
Consolidation among autonomous vehicle companies
Amazon has acquired Zoox and Uber ATG has sold their self-driving unit to Aurora. Despite massive amounts of invested capital, the industry is still moving slowly. Players are girding for a long winter of time to market and profitability.
Summing up
The key to automation decisions is considering what you will need tomorrow. It is important to incorporate future-proof technologies that are adaptable to changes. Autonomous delivery robots offer more cost-effective and sustainable alternatives for last-mile delivery. Further than last-mile delivery, mobile robots can be utilized for other use cases as well.
Advanced Tech Team
The Advanced Technology team has been creating mechanisms to analyze the impact of emerging tech, social trends and build solutions to improve the experience. If you are passionate about emerging technologies and make a bigger impact. Please join the passionate team of the research team.
Are you enthusiastic about emerging technologies and their impact on making a better society? Please join and let's make a difference.
References