Hello!
This is Pramendra from the Advanced Technology Team.
In the Advanced Technology Team, we research business and technology trends around the world.
We're excited to bring you another trend report based on our findings. Previously, we have discussed Sustainability in E-commerce. In this second part of the series, we will be focusing on how Social Commerce could shape the future of shopping.
Do you know
Social commerce is valued at $89B and is projected to grow $604B in the next 7 years.
In the US, generated $26.97 B in sales in 2020, estimated to grow more than double by 2023, soaring to $56.17 B
81% of shoppers research products on Instagram and Facebook, and shopping is a top priority for 48% of Pinterest users
95% of US adults look to influencers for inspiration and 84.1% have made a purchase based on an influencer's recommendation.
Social Commerce landscape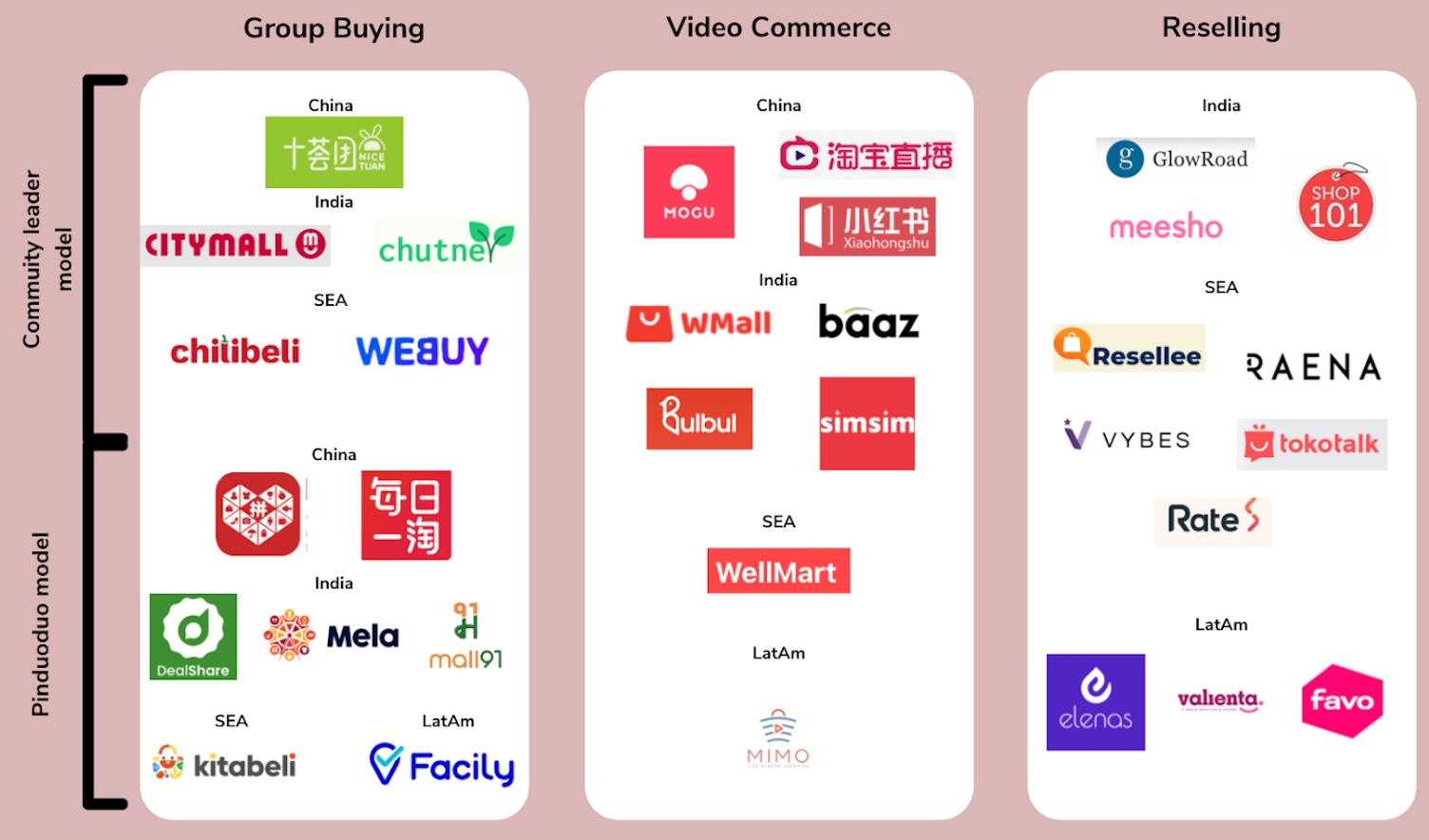 Structure social commerce company base on the above diagram; to make sure we educate on types of social commerce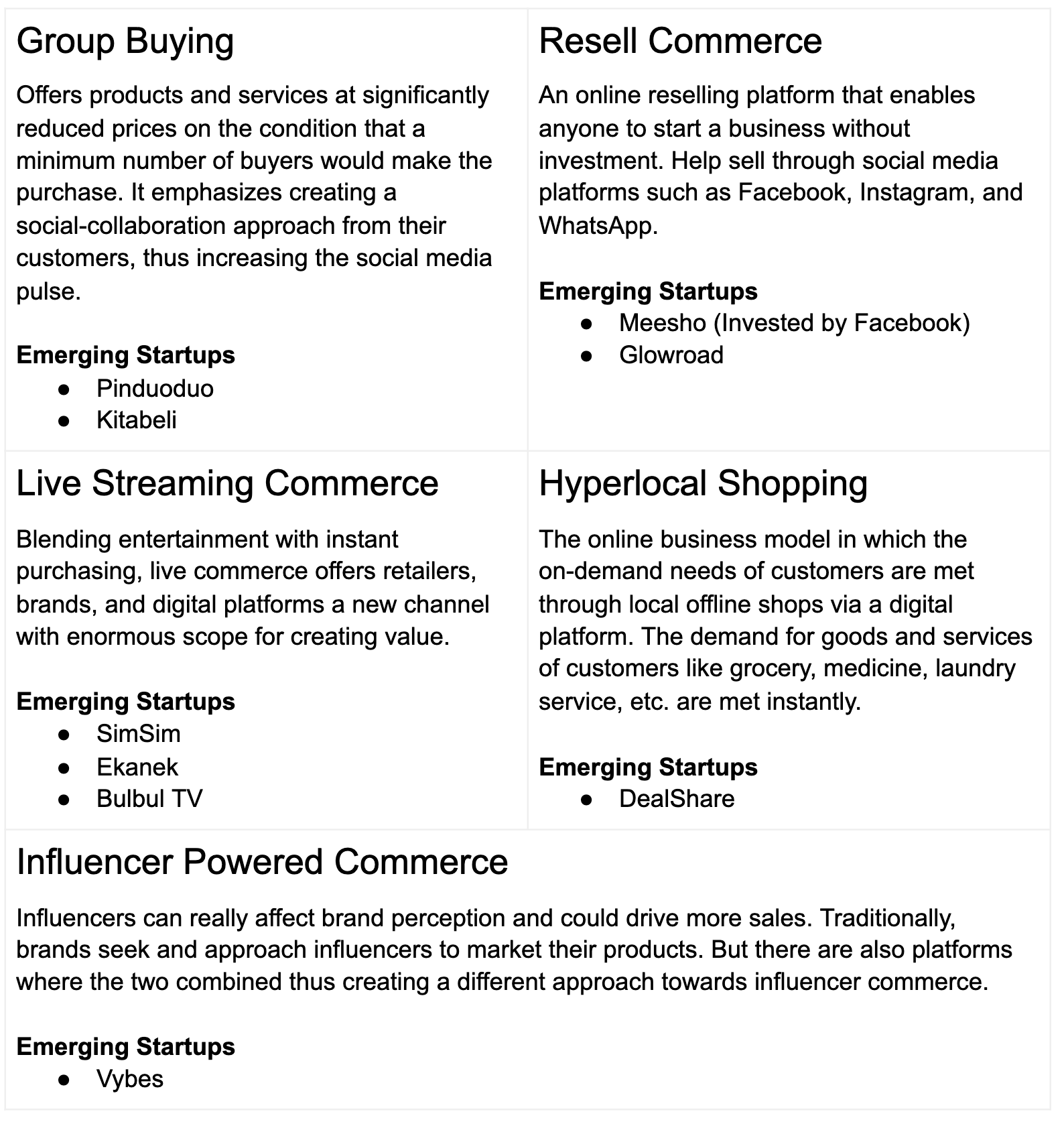 What is social commerce, and why it is trending?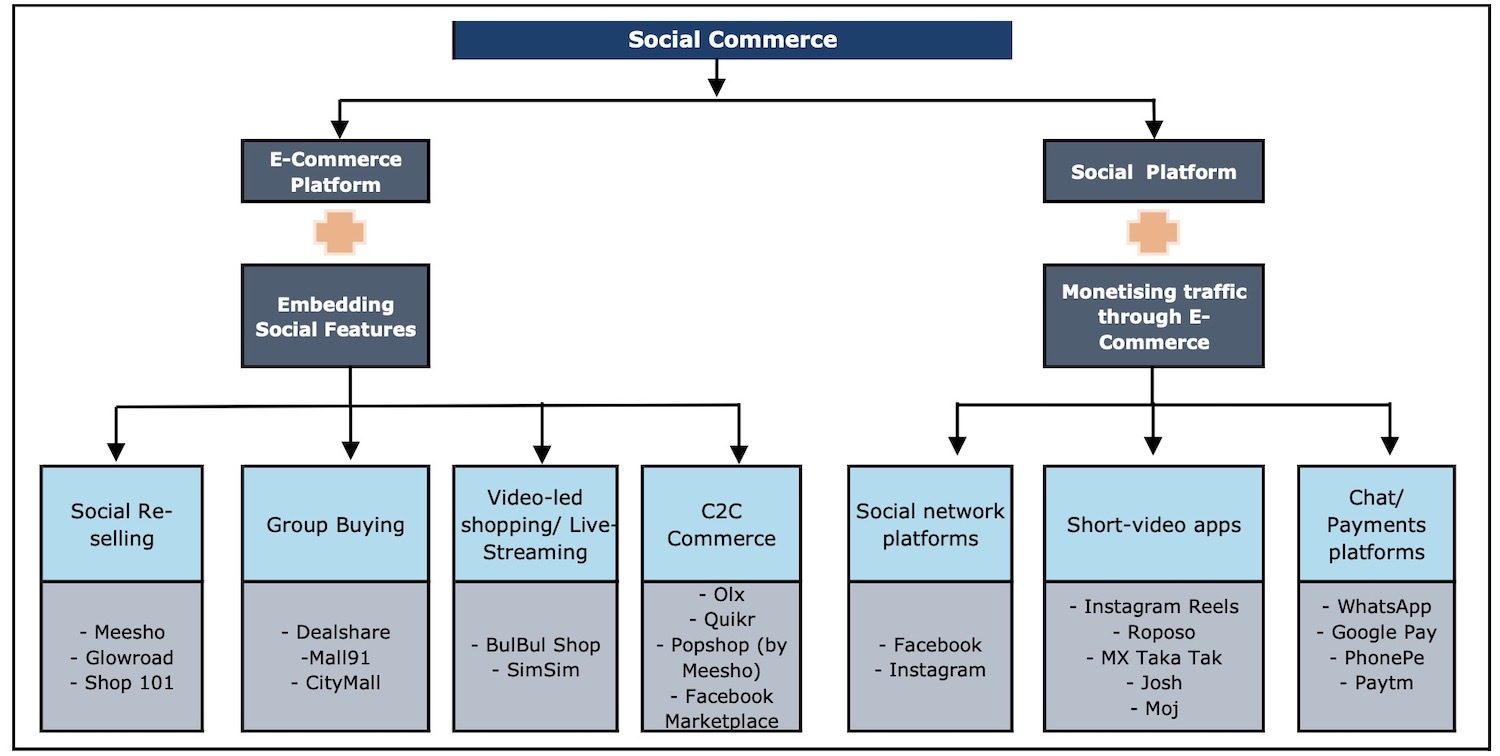 A look at various players of India's social commerce market. Image Credits: Jefferies
Purchases that come directly from a social platform or via direct linking from the platform over to a retail environment.
It means that customers can discover, shop, and purchase products without leaving the app or being redirected. e.g. Instagram Checkout
Social shopping isn't always necessarily social-media shopping rather Communal Commerce.
Why Social Commerce, the next trend
Lessen friction related to online shopping – In social commerce, most of the users just have to click a few buttons without any need to input address or payment details, as it is already stored on the social media platform.
Allows online retailers to reach new markets – Social commerce is a viable long-term strategy, allowing the retailers to easily, speedily, and directly test new markets.
Creates buzz and chat around new products – A lot of excitement and buzz can be created while showcasing products directly to vocal potential customers.
Allows retailers with streamlined stores to better meet customer needs – On social media platforms, storefronts are much more limited as compared to the full eCommerce sites.
Enables personalized consumer experiences like retargeting – Social media platforms such as Facebook have lots of personalization features like retargeting, which improves the efficacy of posts and ads.
Enables to add another channel for consumers – There are a few customers who simply don't like shopping in eCommerce stores. Social commerce allows retailers to reach them through their preferred outlets such as media applications.
Connecting Tier 2 and Tier 3 cities – Experts and investors told that social commerce will unlock markets in India's tier 2 and tier 3 cities and towns in a way that large eCommerce platforms haven't been able to.
"While the traditional eCommerce model continues to flourish in India, social commerce is rising in popularity among sellers and buyers. The potential to build high degrees of brand loyalty, trust, engagement, low customer acquisition costs, etc is driving this growth." – YourStory
Customer behavior shaping future commerce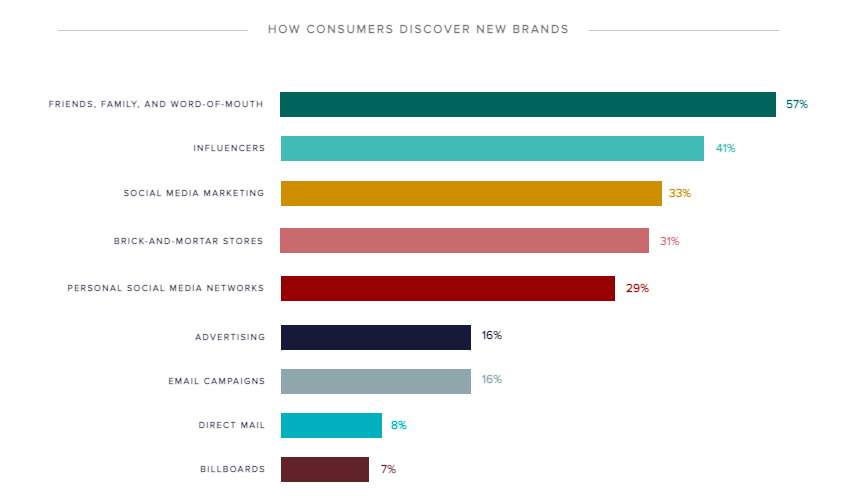 How consumers discover a new brand
Social product discovery
57% discover new brands from friends, family, and word of mouth
41% discover them through the influencers they follow
Less than 16% discover new brands through advertising or email campaigns
The mobile preferred choice for social commerce
Comfortable with social commerce
58% of consumers are comfortable purchasing items through social media platforms instead of a company's website
75% are comfortable purchasing items directly from people online
Social commerce vs eCommerce
Social commerce is not separate from e-commerce, especially as platforms stretch to be more than just photo-sharing or Tweets.
Social commerce is simply e-commerce driven by social media interaction and engagement
Instead, it's e-commerce, discovery, social, photo, video, and entertainment. All of those verticals used to be separate marketing categories, but they are quickly merging into one.
How e-commerce is being revamped
1. Pandemic Effect
For brand marketers, the pandemic has been a catalyst for social commerce.
The growth was so massive in 2020 that eMarketer had to revise its forecasted social commerce projection of 19.8% growth to the nearly doubled actual 37.9% growth. The company is now forecasting that U.S. retail social commerce sales will grow by 34.8% in 2021, to $36.1 billion.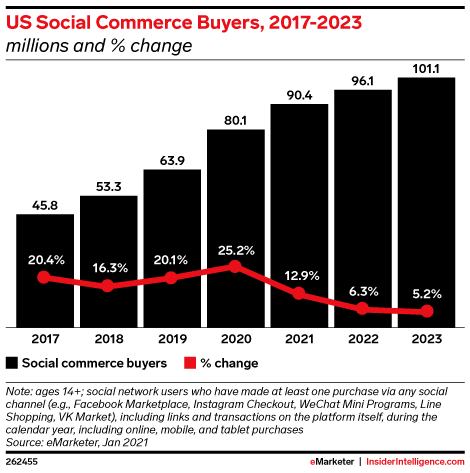 (Source: eMarketer)
2. The Shift from E-commerce to S-commerce
According to Cision, the global commerce market is estimated at $89.4 B in 2021 and is set to reach $604.5 B by 2027. The consumer shift that's moving faster than any of us could imagine. To be more precise, the pandemic in 2020 jumped eCommerce forward by 5 years.
Forbes suggests that young people shape consumer markets, determining what is trending and therefore what drives demand in consumer markets.
To reach the Millennials (aged 25-40 in 2021) or Gen Z (aged 6- 25 in 2021) – social media is where they spend most of their online time.
Millennials spend approximately 2 hours 30 minutes on social media daily
Gen Z spends even longer – around 3 hours on social media every day.
3. SMEs to penetrate S-commerce
Due to the limitation of resources and cost, it is hard for small-medium enterprises (SMEs) to survive in the competitive market, especially in establishing an effective relationship with customers
How to counter that?
Alternatively, many SMEs use social commerce platforms to cover those limitations (e.g. Instagram Business)
Social media needs no further introduction, as over half of the world's population currently uses various social platforms


(Source: Pixlee)
4. D2C brands leverage social commerce to boost reach?
Focusing on the customer experience — "Right kind of product & communication.
Leveraging content, community, and influencer networks to tap new markets and reach more potential customers.
Brands tapping into potential
Shopify Aims to Make Social Media 'Digital Main Street' – PYMNTS
Shopify saw 76% growth in its social commerce channels, with TikTok the fastest growing.
TikTok will have "a monumental impact on the creator economy," and the company views creators "as the next generation of merchants."
Store associates are now being given the ability to create short product recommendation videos
According to eMarketer, social commerce in the U.S. is projected to hit over $36 billion this year; in China, it's expected to be over $351 billion.
Etsy acquired fashion resale app Depop for $1.62 billion
Depop is a resale app — intentionally positioned towards the Gen-Z market — with 30 million users.
The site has more than 2 million sellers, who are more akin to influencers, modeling their own items and using social accounts on TikTok and Instagram to increase their audience.
Etsy entering into the resale market and keeping them engaged with the younger demographic driving the changes (~90% of Depop users are under 26)
Unlocking the Future of Commerce in India – Bain & Co
Digitally connected Indians spend an average of three hours per day online
Social commerce is paving the way for a more distributed model that's built on community, connection, and trust.
We expect that social commerce, which is a $1.5B to $2B market today, will be worth as much as $20 B in just five years and $70 B in seven years
Social commerce addresses a unique set of needs while complementing platform e-commerce.
M&A and Funding
Social commerce startups have raked in $554 million this year as of July 16, a 7x increase from last year and the highest ever since 2015, according to data sourced from Venture Intelligence.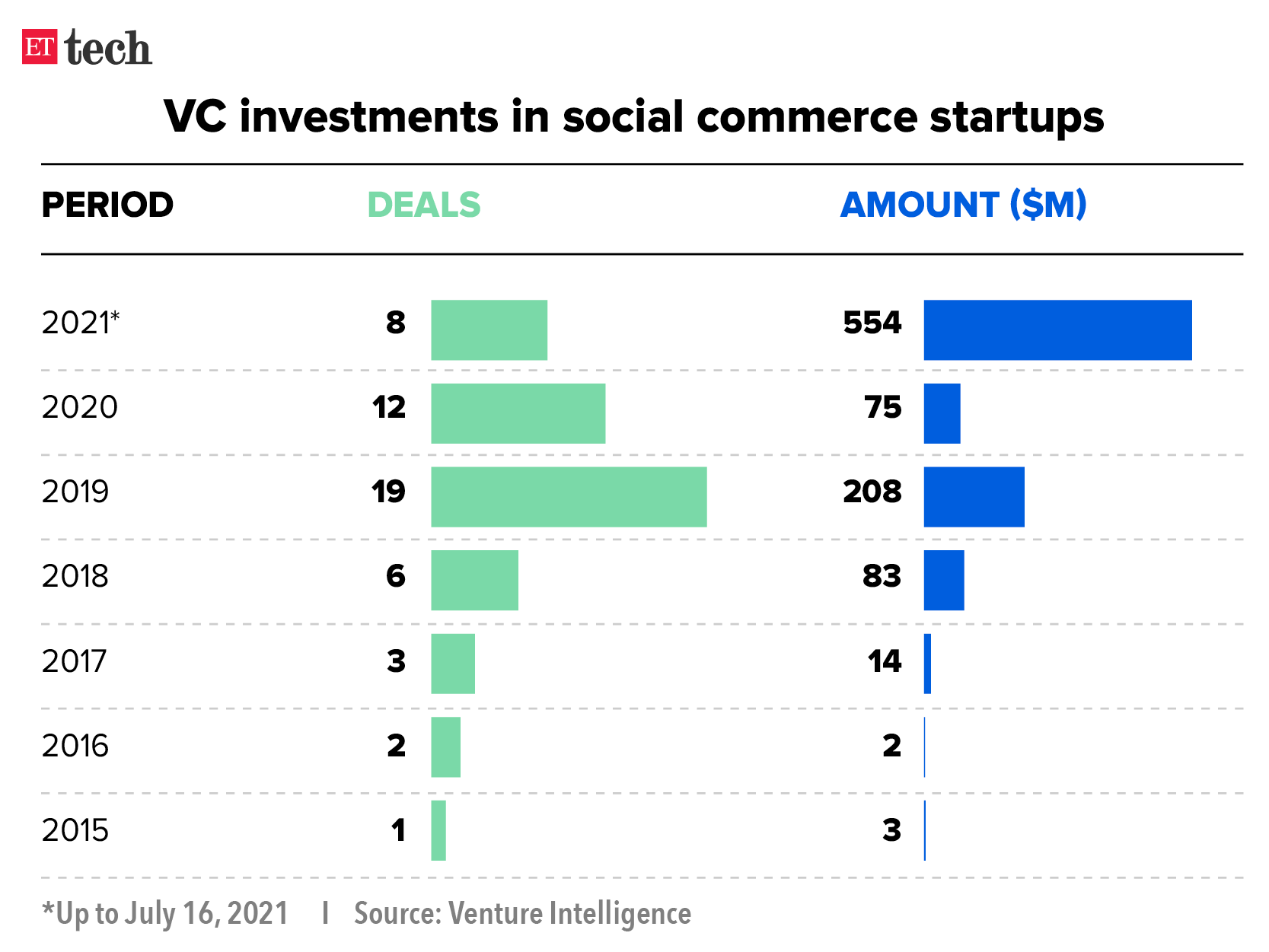 (Source: Economic Times)
Apart from a funding spree, the sector has in recent months seen some consolidation too.
Facebook-backed Meesho nears $250 million
YouTube acquires Indian social commerce startup Simsim
Alibaba Co-Leads $196M Round In Community Group Buying Firm Shihuituan
To further understand social commerce emerging startups, we list some of our best picks and what they're trying to bring in a list below.
Emerging Social Commerce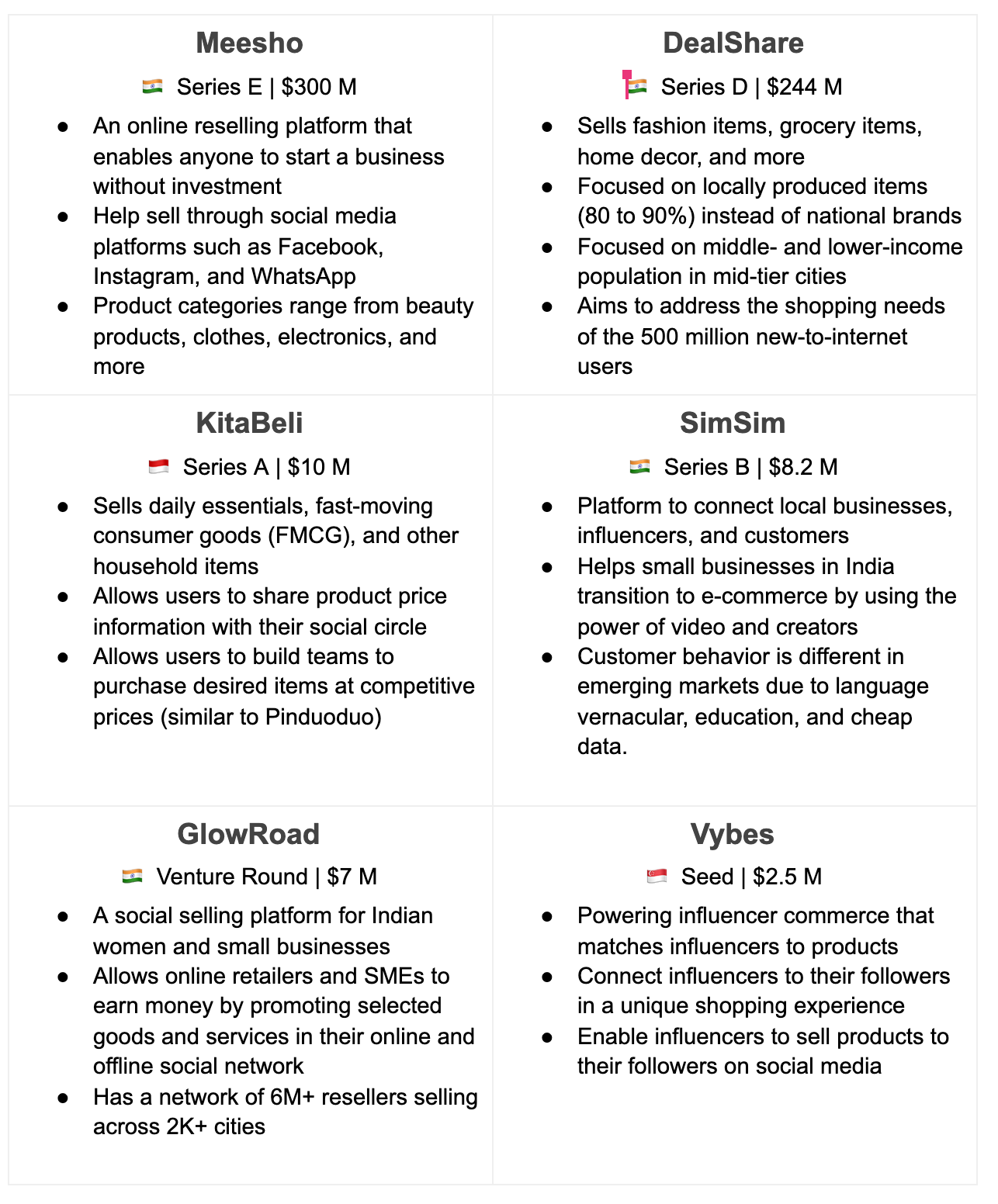 Meesho
DealShare
KitaBeli
SimSim
GlowRoad
Vybes
Evolution of Social Media for Social Commerce
Social media platforms are providing avenues to SMEs to enable eCommerce business while pivoting to promote social commerce thus social commerce is a major source of revenue. Other than that, Social Media has evolved its platform to facilitate shopping more directly, some of them are:
What these platforms all have in common is they give consumers a choice to buy on a channel where they choose to spend their free time and pro-actively connect with brands by following their pages and interacting with their content and like-minded individuals.
Categories being sold on Social Commerce

Implementing Advance Tech in Social Commerce
Blockchain
Promotes visibility, traceability, transparency thus improving social engagement
Improve trust and security in the transaction
Can also promote sustainability to track where does an item come from
AR/VR
Improving shopping experience in pandemic settings
Reducing possibilities of item return by trying it virtually
Share button + AR/VR experience promotes social engagement
Deepfakes
Unique approach towards advertising an items
Staying anonymous in the age where everything is public
Summing up
Social commerce is a growing trend among SMEs and the young population
It will revamp the current e-commerce space and evolve the shopping experience
Used for product discovery, search, click-to-purchase, and post-purchase support.
Solutions that align with sellers requirements especially social commerce make the marketplace unique and reliable
Advanced Tech Team
The Advanced Technology team has been creating mechanisms to analyze the impact of emerging tech, social trends and build solutions to improve the experience. If you are passionate about emerging technologies and make a bigger impact. Please join the passionate team of the research team.
Are you enthusiastic about emerging technologies and their impact on making a better society? Please join and let's make a difference.
Previous Circular economy: Report on Sustainable eCommerce
References